(Getty Images)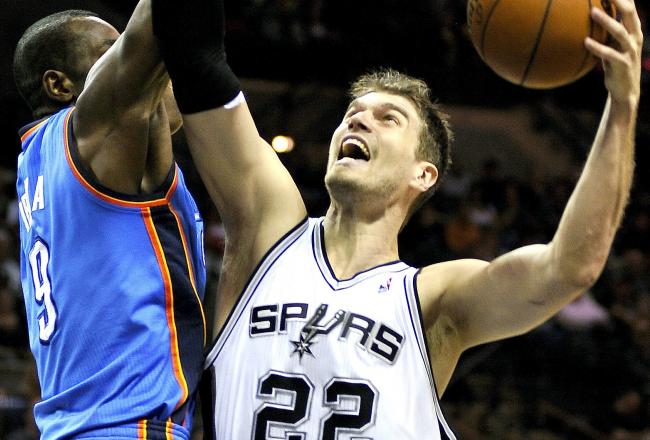 Tiago Splitter and the Spurs were up for the challenge against the Thunder.
Led by Tiago Splitter, the San Antonio Spurs were fueled by a 35-point second quarter to pull ahead of the Oklahoma City Thunder and stay there in a 105-93 victory. The victory was a much-needed one for San Antonio — who was coming off a 30-point drubbing by the Portland Trail Blazers. The Spurs placed four starters in double figures.
76ers 106 – Nets 97 – The 76ers win snapped a five-game losing streak. Spencer Hawes had a big night with 24 points 10 rebounds and 7 assists as the Sixers placed six players in double figures. Deron Williams finished with 27 points and 13 assists for Brooklyn.
Spurs 105 – Thunder 93 – The Spurs held the Thunder to 42 percent shooting. Tiago Splitter led San Antonio with 21 points and 10 rebounds. Kevin Durant led the Thunder and all players with 26 points.
Jazz 103 – Pistons 90 – The Utah Jazz outscored the Pistons 31-18 in the second quarter to open the game up. Mo Williams led the Jazz with 20 points and 6 assists. The victory ended a four-game slide for Utah. Greg Monroe led the Pistons with 13 rebounds.
Nuggets 108 – Suns 93 – Kosta Koufos led the Nuggets with 22 points and 10 rebounds as the Nuggets were able to hold off a game Suns squad. Wesley Johnson led Phoenix with 18 points and Luis Scola grabbed 13 rebounds.
Warriors 92 – Knicks 63 – The Warriors allowed the lowest number of points in nearly six decades. Steph Curry was 6-10 from three-point range on his way to a game-high 26 points. Carmelo Anthony finished with 14 points and 10 rebounds.
The Lineup:
Top 10 facials of all-time (Dime Magazine).
Is the gun violence debate fading (CBS News).
Dwight Howard expects a harsh Orlando crowd (Mike and McGoutry).
Andrew Bynum still seeing doctors (Mike and McGoutry).
New music from Ace Hood (IFWT).
"House Shoes" (The Jay Graves Report).
Florida panel rejects medicaid expansion (Washington Post).
Ticket wait list for basketball revealed in Seattle (Hoops World).
Is Kyrie Irving's season in jeopardy (Dime Magazine).
Five hi-tech CEOs on the hot seat (Wall Street Journal).
I brought ya things ya couldn't pronounce!!!