(CBS Sports)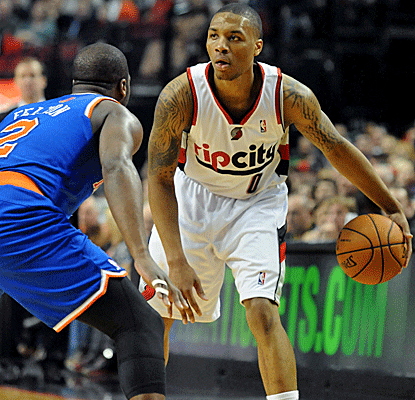 Portland's Damian Lillard is the front-runner for NBA Rookie of the Year
Damian Lillard became the fastest rookie to reach 1,200 points and 400 assists since Allen Iverson in 1996-97. Against the New York Knicks, Lilliard led the Portland Trail Blazers with 26 points and 10 assists in a 105-90 victory.
Spurs 92 – Mavericks 91 – Tim Duncan gave a vintage performance with 28 points and 19 rebounds.The victory wasn't sealed until Vince Carter's three-point attempt bounced off the rim at the horn. The Spurs clinched a playoff spot with the win. San Antonio has now won at least 50 games for the last 14 seasons. Dirk Nowitzki led the Mavericks with 21 points and 11 assists.
Trail Blazers 105 – Knicks 90 – All five Portland starters scored in double figures. The Knicks were without Carmelo Anthony, Tyson Chandler and Amar'e Stoudemire — all with knee injuries. LaMarcus Aldridge added 22 points and 10 boards and J.J. Hickson grabbed 16 boards for Portland. J.R. Smith led the Knicks with 33 points and Marcus Camby grabbed 10 rebounds. The Knicks have lost the first three games of a five-game road trip.
The Lineup:
Greivis Vasquez embracing role as starter for Hornets (Mike and McGoutry).
British and American stars separated at birth (BBC).
Jets, Raiders showing interest in Geno Smith (Pro Football Talk).
NFLPA Former Players Daily Huddle is out (Paper li).
101 NBA facials (Huffington Post).
Nikki Minaj on the cover of Elle (Huffington Post).
Derrick Rose offers to pay for funeral of 6-month old shooting victim (Derrick Rose News).
Lil' Wayne suffering from seizures again(IFWT).
Which free agents can help the Dallas Cowboys (The Cowboys Trap).
Is Jerry Jones the real problem in Dallas (Dallas Cowboys Plus).
When Bobby Brown ruled R&B