(AP)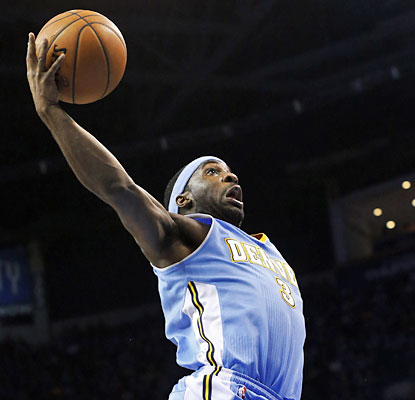 Ty Lawson was one of six Denver Nuggets to score 10 or more points.
Lost in the glow of the Miami Heat's 23-game winning streak are the Denver Nuggets. The Nuggets have won 13 games in a row, their latest was a 114-104 win over the Oklahoma City Thunder. During the streak, the Nuggets have defeated the Thunder twice. Also the Grizzlies, Lakers, Clippers, Bulls, Knicks and Trail Blazers.
Pacers 95 – Magic 73 – The Orlando Magic never rebounded from 29 first half points. Paul George led Indiana with 19 points and Tyler Hansbrough grabbed 14 rebounds. Magic rookie Moe Harkless led the Magic with 11 points.
Bucks 102 – Trail Blazers 95 – The Trail Blazers made a furious fourth quarter rally after scoring eight points in the second quarter. Brandon Jennings led the Bucks with 24 points and Larry Sanders grabbed 13 boards. Wesley Matthews scored a game-high 28 points for Portland.
Nuggets 114 – Trail Blazers 104 – Neither team shot well from beyond the arc. An unproductive third quarter proved to be the difference in the game. Ty Lawson led the Nuggets with 25 points and Kenneth Faried grabbed 15 rebounds. Kevin Durant led all scorers with 34 points.
Kings 116 – Clippers 101 – The Kings continued their high scoring output as they defeated the Clippers for the first time this season.Marcus Thornton led Sacramento with 25 points. Blake Griffin led the Clippers with a game-high 26 points.
The Lineup:
NC State pro-day is today (Carolina Panthers).
A must read (CAIR NY).
How to pick a better NCAA bracket (Wall Street Journal).
Ebony was wrong about Michael Jackson prediction (Style Points).
Steubenville's football coach knew about the rape (Salon.com).
MJD comes out of the boot this week (Pro Football Talk).
Congrats to the Dominican Republic (MLB.com).
A possible new twist in the Pro Bowl selection (Eye on Football).
VA hospital in Mississippi has some concerns (Washington Post).
Will the crown-of-the-helmet rule pass (USA Today).
Hip-Hop Icon.