(www.heavy.com)
Kevin Ward's teammates finished off Duke with him in mind.
Anyone who could hold down their Easter dinner saw the unfortunate injury to Louisville Cardinals guard Kevin Ware in yesterday's Midwest Regional Final against the Duke Blue Devils (sometimes, more than once). The reaction to Ware's injury told the story — some players reportedly vomited and another appeared to fall out of his seat upon seeing Ware's shattered leg. Coach Rick Pitino wiped away tears while his player was carted off the floor.
No one can question the love of Ware's teammates as many were in tears when they gathered around him. Ware, in his most anguished moment implored his shaken teammates through tears, "Just win it for me y'all." His mates responded and proceeded to take apart the Blue Devils 85-63 to earn a trip to the Final Four.
(www.cardchronicle.com)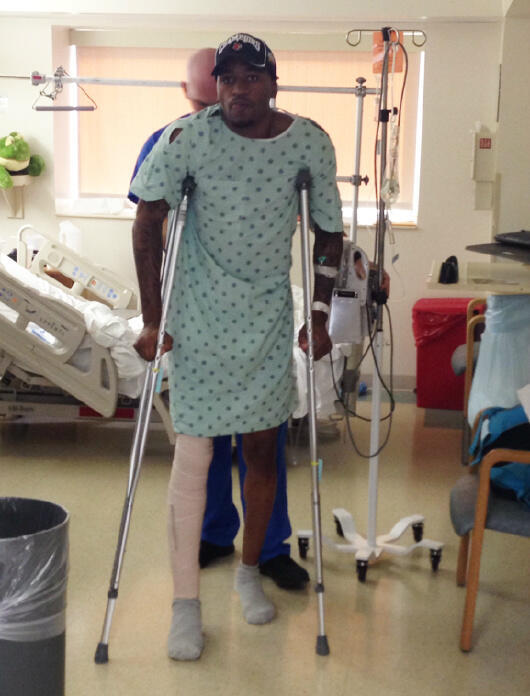 Kevin Ware this morning after successful surgery. 
The NCAA tournament has always been about the players. Win, lose or draw, glory or guilt is heaped upon the kids — who carry the hopes and dreams of sports fanatics across the country.
But what happens when these young men and women encounter adversity.
I became unnerved last week when broadcasters during the LaSalle/Withita State matchup proceeded to open the books on Explorers' guard Ramon Galloway and his family. Galloway is LaSalle's dynamic leading scorer, but during stretches of the contest, the broadcast team seemed more focused on his blind father and relatives who are currently incarcerated.
The same thing occurred during the Michigan/Kansas contest. Craig Sager informed America how University of Kansas guard Ben McLemore felt the pressure of being his family's meal ticket. Sager proceeded to explain how McLemore had ten family members living in limited space and an incarcerated brother.
It's one thing to have a feel good story, but to put a kid's family struggles on full display is irresponsible and classless. The temperature changes drastically when discussing white players. Somehow, the story always ends with the athlete pursuing a degree in something. Whereas with black athletes, collegiate athletics is presented as the last bastion of hope for the player and his family.
The NCAA and it's universities are cashing in on three weeks of madness — which just became a little more maddening for Kevin Ware and his family. Who will handle his medical expenses and rehab even after college? Will Louisville honor his scholarship if he's unable to play basketball?  Those are questions which need to be answered.
The student athlete moniker is outdated and lame. Facing the tragedy of their fallen brother, Louisville's players were asked to move on and play the game with a straight face. Amateur athletes are uncompensated, but equally scrutinized and held to the same flame as their pro counterparts — some of whom have yet to mature to a respectable level.
The best sight all day is seeing Kevin Ware on crutches, standing up in a Final Four cap. I hope the NCAA takes a stand for him and others in a similar position.