(Jared Wickerham/Getty Images)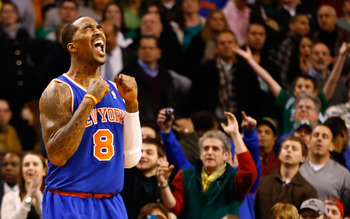 J.R. Smith and the NY Knicks are picking up steam as the playoffs approach.
The New York Knicks are priming themselves for a run in the Eastern Conference playoffs. With three wins over the Miami Heat and the present momentum of a 10-games winning streak the Knicks are trying to close out the season on a high note. Carmelo Anthony scored 40 points in New York's 95-82 road victory over the Atlanta Hawks.
Raptors 88 – Wizards 78 – Toronto outscored Washington 49-28 in the second half. DeMar DeRozan finished with 25 points and Kyle Lowry handed out 13 assists. John Wall led the Wizards with 20 points and 5 assists.
Bobcats 88 – 76ers 83 – Charlotte held Philadelphia to 35 percent shooting in their 18th win of the season. The 76ers blew a 16-point lead. Gerald Henderson led the Bobcats with 24 points and Josh McRoberts grabbed 16 rebounds. Damien Wilkins led Philly with 20 points and 9 rebounds.
Knicks 95 – Hawks 82 – Atlanta shot below 50 percent from the free throw line and scored only 14 points in the 4th quarter. J.R. Smith scored 19 points and Raymond Felton added 14 for the Knicks — who have won three straight games against the Hawks. Kyle Korver led the Hawks with 25 points.
Nets 113 – Cavaliers 95 – MarShon Brooks scored a career-high 27 points and Deron Williams scored 24 points and handed out 8 assists. Brooklyn handed Cleveland their 10 consecutive defeat. Kyrie Irving finished with 16 points and 6 assists.
Celtics 98 – Pistons 93 – Boston blew an 18-point lead before Jeff Green bailed his team out. Green scored a game-high 34 points for the Celtics — who clinched a playoff spot. Greg Monroe led Detroit with 24 points and 17 rebounds.
T-Wolves 107 – Bucks 98 – Nikola Pekovic led Minnesota with 27 points and 8 assists as the T-Wolves have won two games in a row. Ersa Illyasova led Milwaukee with 29 points and 12 rebounds.
Spurs 98 – Magic 84 – San Antonio held Orlando to 38 second half points. Danny Green led the Spurs with 20 points. Mo Harkless led the Magic with 18 points.
Nuggets 113 – Jazz 96 – Denver shot 56 percent from the floor and allowed only 17 points in the third quarter. Danilo Gallinari led the Nuggets with with 21 points and Kosta Koufos grabbed 13 rebounds. Gordon Hayward led the Jazz with 18 points. The loss snapped Utah's five-game winning streak.
Rockets 112 – Kings 102 – Chandler Parsons led Houston with 29 points. The Rockets have won three games in a row. Tyreke Evans led Sacramento with 22 points.
Grizzlies 94 – Trail Blazers 76 – Mike Conley led Memphis with 20 points and Jerrod Bayless added 7 assists. J.J. Hickson scored 17 points and grabbed 9 rebounds.
Clippers 126 – Suns 101 – Los Angeles used a 38-point third quarter to pull away from Phoenix — who dropped their seventh game in succession. DeAndre Jordan finished with 20 points and 12 rebounds. Wesley Johnson led the Suns with 20 points.
Warriors 98 – Hornets 88 – Golden State outscored New Orleans in the second quarter 32-14. David Lee led the Warriors with 23 points and 16 rebounds. Eric Gordon led the Hornets with 21 points.
The Lineup:
Find openings for the movie TRANCE (Facebook).
Sky is the limit for Damian Lillard (Dime Magazine).
Muddy Waters was born 100 years ago today (Telegraph Music).
New prenatal blood tests (Wall Street Journal).
North Korea moves missiles within considerable range to U.S. (CBS).
Roc Nation Sports is preparing to sign its second athlete (IFWT).
Kobe speaks on Magic Johnson's gay son (IFWT).
More potential firings at Rutgers (CBS).
Top ten Final Four games (Dime Magazine).
Magic Johnson goes deep (TMZ).
The more Dr. King spoke that night, the more accepting he became of his mortality.