(Fox News)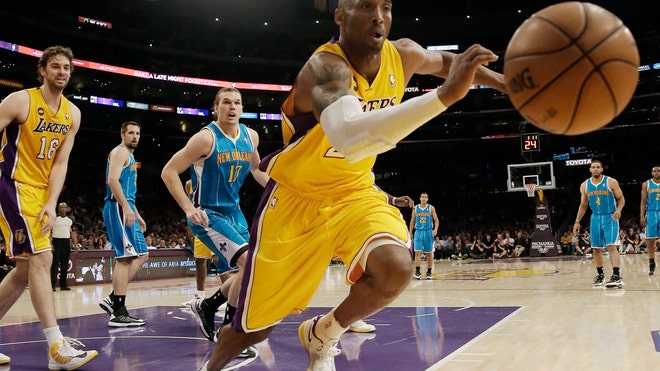 With four games remaining, the Lakers can ill-afford to lose their grasp on the West's final playoff spot.
Metta World Peace returned to the Los Angeles Lakers lineup just 12 days removed from knee surgery. Time is short for the Lakers as they attempt to hold off the Utah Jazz for the 8th playoff spot. Last night, Kobe Bryant's big 4th quarter pushed the Lakers past the New Orleans Hornets 104-96 and ahead of the Jazz in the standings by half a game.
Pacers 99 – Cavaliers 94 – The Pacers rallied from 20 points down with less than 9 minutes remaining. The Pacers went on a 31-6 run to steal the victory. George Hill scored 27 points and handed out 4 assists. Kyrie Irving led the Cavaliers with a game-high 29 points and 7 assists.
Nets 104 – 76ers 83 – The 76ers outrebounded Nets forward Reggie Evans 34-24. Evans led at the half 17-16. Brook Lopez led Brooklyn with 29 points. Thaddeus Young led Philadelphia with 18 points.
Knicks 120 – Wizards 99 – The Knicks pushed their winning streak to 13 games and won their first Atlantic Division title in 19 years. Carmelo Anthony led all scorers with 36 points and Raymond Felton handed out 9 assists. John Wall led Washington with 33 points.
Heat 94 – Bucks 83 – Miami outscored Milwaukee 24-13 in the third quarter. LeBron James led the Heat with 28 points and Udonis Haslem grabbed 15 rebounds. Brandon Jennings led the Bucks with 30 points.
Raptors 101 – Bulls 98 – The Bulls are in danger of slipping into the 6th spot with this loss. DeMar DeRozan led Toronto with 20 points. Carlos Boozer led Chicago with 11 rebounds and 8 assists.
Grizzlies 94 – Bobcats 75 – Charlotte scored 35 points in the second half and shot 35 percent from the floor. Mike Conley led Memphis with 20 points and 7 assists. Kemba Walker led the Bobcats with 19 points.
Rockets 101 – Suns 98 – The Rockets clinched a playoff spot thanks to a goal tending call against Jermaine O'Neal on James Harden's three-point attempt. Harden finished with 33 points and 6 assists. Luis Scola finished with 28 points.
Thunder 90 – Jazz 80 – The Thunder have won the season series against the Jazz 3-1. Russell Westbrook finished with a game-high 25 points and Kevin Durant grabbed 12 boards. Mo Williams led Utah with 19 points and 6 assists.
Lakers 104 – Hornets 96 – Kobe Bryant scored 23 of his 30 points in the 4th quarter. Pau Gasol pulled down 11 rebounds. Eric Gordon led Charlotte with 22 points and Anthony Davis grabbed 14 boards.
Warriors 105 – T-Wolves 89 – Minnesota scored 35 second half points. Klay Thompson scored 30 points and Andrew Bogut grabbed 14 boards. Chase Budinger led the T-Wolves with 17 points.
The Lineup:
German households among the poorest in Europe (Wall Street Journal).
Kim Osorio featured this month (Black Enterprise).
Katt Williams responds to Charlamagne (Hip Hop News).
NCAA under pressure to give aid to players (The Chronicle).
Free video conferencing program (NFL HOF).
Jay-Z selling his portion of Nets to become an agent (Sporting News).
LeBron James expects to sit out final games (Mike and McGoutry).
Richard Sherman: Half the NFL is on Adderall (Washington Post).
UConn women win 8th National Championship (Huffington Post).
Warriors clinch playoff berth (Hoops Hype).
Today is the day the game and the players changed. Here's to you Mr. Robinson!