(CBS Sports)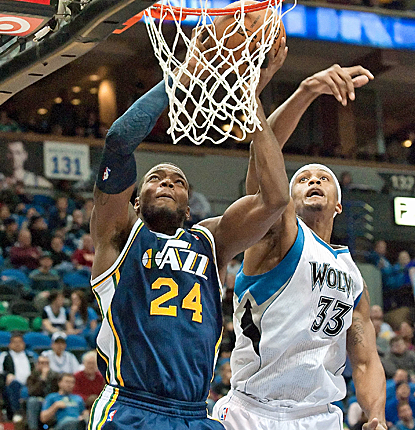 Paul Milsap and the Utah Jazz need a win combined with an LA Lakers loss to get into the NBA postseason.
Tomorrow night, the Utah Jazz and Los Angeles Lakers' respective seasons have come down to one game. The Jazz defeated the Minnesota Timberwolves 96-80. The victory sets up a meaningful game Wednesday against the Memphis Grizzlies. The Lakers face the Houston Rockets. The math here is simple: A Jazz win and Lakers loss and Utah is in. A Lakers victory eliminates the Jazz. Utah holds the first tie-breaker.
Bobcats 106 – Knicks 95 – The Bobcats took advantage of New York resting their starters after clinching the second overall seed in the East. Chris Copeland scored a career-high 32 points. Gerald Henderson led Charlotte with 27 points.
Bulls 102 – Magic 84 – The Bulls are still jousting with the Atlanta Hawks for sole possession of the sixth seed. Carlos Boozer led Chicago with 20 points and 12 rebounds. Tobias Harris scored 20 points and Nikola Vucevic grabbed 14 boards for Orlando.
Heat 96 – Cavaliers 95 – Miami was able to rest its core unit before holding off Cleveland. Rashard Lewis led the Heat with 19 points and Norris Cole handed out 9 assists. Tristan Thompson led Cleveland with 16 points and 13 rebounds.
Nets 106 – Wizards 101 – Kris Humphries made a cameo appearance as Brooklyn rested its starters. Humphries led the Nets with 20 points and Andray Blatche grabbed 12 rebounds. John Wall led Washington with 18 points and 12 assists.
Pistons 109 – 76ers 101 – Greg Monroe had a huge game for Detroit with 27 points and 16 rebounds. Dorrell Wright led Philadelphia with 22 points.
Nuggets 112 – Bucks 111 – The Nuggets clinched the third seed in the West with their win. Ty Lawson led Denver with 26 points and JaVale McGee pulled down 17 rebounds. Monta Ellis led all scorers with 38 points.
Grizzlies 103 – Mavericks 97 – Memphis is within a half game of the LA Clippers — who hold the fourth seed. Jerryd Bayless finished with 19 points for the Grizzlies. Dirk Nowitzki led Dallas with 26 points.
Thunder 104 – Kings 95 – Oklahoma City has secured the top overall seed in the Western Conference. Kevin Durant finished with 29 points and 8 assists. Isaiah Thomas led Sacramento with 16 points.
Jazz 96 – T-Wolves 80 – Utah held Minnesota to 39 second half points. Al Jefferson led the Jazz with 22 points. Derrick Williams scored 18 points for the T-Wolves.
Suns 119 – Rockets 112 – With the loss, Houston could still finish eighth in the West. Luis Scola led Phoenix with 25 points and 15 rebounds. Chandler Parsons led the Rockets with 24 points.
Warriors 116 – Spurs 106 – The Spurs need as much rest as they can get before the start of the post season. Steph Curry scored a game-high 35 points for Golden State. Gary Neal led the Spurs with 25 points.
The Lineup:
President Obama vows justice in wake of Boston Marathon bombing (Huffington Post).
China criticizes US presence in Asia (BBC).
Turkish pianist insults Islam via Twitter (Wall Street Journal).
A piece of history (Black Fives).
The Evil That Men Do (Barber Shop Sports).
FBI at Haslam Family Headquarters (Memphis Daily News).
Security increases in DC (DC Social).
C.C. Sabathia is featured in an ESPN commercial (IFWT).
Boston athletes respond to tragedy (Huffington Post).
Obstacles in the 76ers/Doug Collins split (Sports Illustrated).
Would be nice to see the brutha make a comeback.