(Jaime Squires/Getty Images)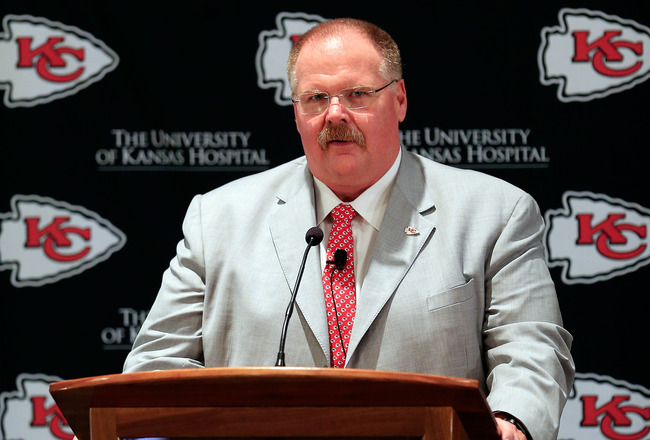 Andy Reid and the Kansas City Chiefs visit the Philadelphia Eagles in Week 3.
The 2013 NFL schedule has been released and fans around the country have circled dates on their calendar. There are grudge matches from last year's playoffs as well as players and coaches facing their former teams.
Here are the games I have marked as must see T.V.
Baltimore Ravens at Denver Broncos, Week 1 – The Baltimore Ravens return to the scene of one of the greatest games in NFL playoff history. The Broncos are hoping for a different outcome.
Denver Broncos at New York Giants, Week 2 – The Manning brothers meet up on Eli's turf. Could it happen again in February 2014?
Kansas City Chiefs at Philadelphia Eagles, Week 3 – Andy Reid returns to Philadelphia as coach of the Chiefs. I can guarantee a warm welcome for Reid and the Chiefs passing the ball.
Houston Texans at Baltimore Ravens, Week 3 – Ed Reed returns to Baltimore as a visitor. I wonder if he'll exchange pleasantries with John Harbaugh.
New Orleans Saints at New England Patriots, Week 6 – Drew Brees and Tom Brady might have 1,100 passing yards between them on this day.
Denver Broncos at Indianapolis Colts, Week 7 – Peyton Manning returns to Indianapolis as the enemy.
Seattle Seahawks at Atlanta Falcons, Week 10 – Rematch of the NFC Divisional playoff.
Minnesota Vikings at Green Bay Packers, Week 12 – Will Greg Jennings attempt a Lambeau Leap in Vikings purple?
San Francisco 49ers at Washington Redskins, Week 12 – All signs point toward RGIII being under center for this matchup.
New England Patriots at Denver Broncos, Week 12 – Wes Welker gets an opportunity to show Bill Belichick what he's missing.
Atlanta Falcons at San Francisco 49ers, Week 16 – The Falcons and Niners close out Candlestick Park in a rematch of the NFC Championship.
What are some of your most anticipated games?
The Lineup:
Boston police looking for gray Honda CRV in Marathon Bomber manhunt (Boston.com).
Worst flops in the NBA this season (Basketball Reference).
Coaches and players knew of gay NFL player and didn't care (Wild Thing).
NBA Images of the Year (Ball is Life).
Derek Jeter out until the All-Star break (IFWT).
Top 25 NBA dunks of the year (Ball is Life).
12 Bodies recovered after blast in Texas (Tulsa World).
Buck Showalter faces Don Mattingly (CSN Baltimore).
Blame it on Hip Hop (TMZ).
Boston remains at a standstill (Wall Street Journal).
It's getting harder and harder to watch television these days.