(GMA Network)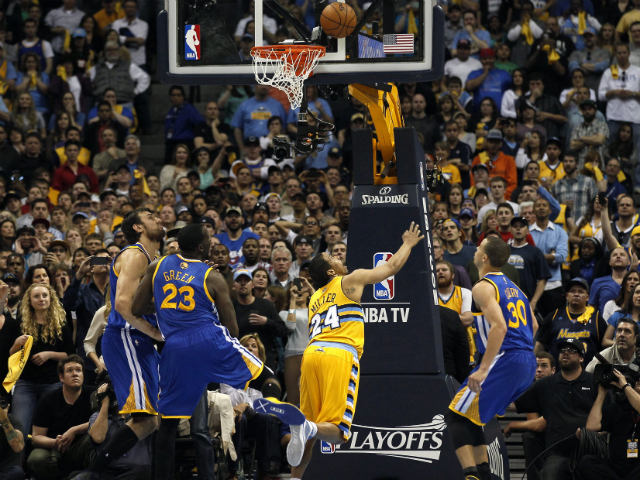 Andre Miller watches his game-winning shot in the Nuggets Game 1 victory. 
The opening games of the 2013 NBA Playoffs saw the home teams hold serve in impressive fashion. The unheralded and under-appreciated Andre Miller scored a game-high 28 points, including the game-winning layup with 1.2. seconds remaining as the Nuggets held off the upstart Golden State Warriors 97-95 to take a 1-0 lead in the series. The Warriors suffered a devastating blow when they lost forward David Lee for the remainder of the playoffs with a hip flexor injury.
Paul George notched the first triple-double by an Indiana Pacer since Mark Jackson in 1998. George was only 3-13 from the field but he converted 17 of 18 free throws. Indiana handled the Atlanta Hawks rather easily in a 107-90 victory.
Here are the results from Sunday's games.
Pacers 107 – Hawks 90 – Atlanta shot 50 percent from the floor, but were out rebounded 48-32. Paul George led Indiana with 23 points, 11 rebounds and 12 assists. George Hill scored 16 points and Roy Hibbert added 16. Jeff Teague scored 21 points for Atlanta.
Pacers lead 1-0.
Spurs 91 – Lakers 79 – Los Angeles out shot San Antonio, but committed twice as many turnovers, 18-9. Tony Parker finished with 18 points and 9 assists and Kawhi Leonard grabbed 11 rebounds. Dwight Howard led the Lakers with 20 points and Pau Gasol grabbed 16 boards.
San Antonio leads 1-0.

Heat 110 – Bucks 87 –  Milwaukee's Monta Ellis (22 points) and Brandon Jennings (26 points) combined for 48 points — with no other teammate scoring more than six. LeBron James led Miami with 27 points, 10 rebounds and 8 assists. Ray Allen scored 20 points off the bench and Chris Bosh was 3-4 from beyond the arc.
Miami leads 1-0.
Thunder 120 – Rockets 91 – Oklahoma City led by as many as 35 points in their blowout of the Rockets. Kevin Durant scored a game-high 24 points and Russell Westbrook flirted with a triple-double scoring 19 points, grabbing 10 rebounds and handing out 9 assists. James Harden led Houston with 20 points.
OKC leads 1-0.
The Lineup:
A look at the Eagles second-year DE Fletcher Cox (Philly.com).
It's Alcohol-Awareness Month (YouTube).
Another James/Jordan comparison (The Jay Graves Report).
Kobe Bryant goes in heavy on Twitter (The Shadow League).
Darrelle Revis finally lands in Tampa Bay (Washington Post).
Who is the best NFL Draft pick in the last 30 years (USA Today).
Bombing suspect communicating with officials sources say (CNN).
Nice day for an 8-year old battling cancer (Huffington Post).
This day in NBA History (Basketball Reference).
Ways to protect the environment (Men's Health).
Remembering the great Nina Simone (February 21, 1933 – April 21, 2003).