(Getty Images)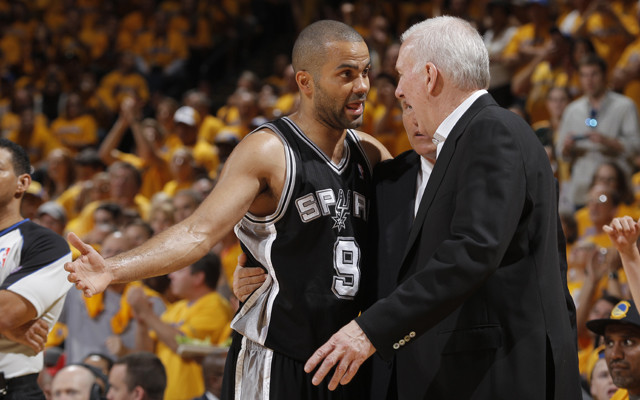 Even with a hobbled Steph Curry, Tony Parker and Greg Popovich had no answer for the Warriors in Game 4.
With Steph Curry at less than 100 percent and Klay Thompson with an off day the Golden State Warriors needed to rely on someone, anyone to help them pull even with the San Antonio Spurs.
Enter Harrison Barnes, Jarrett Jack and Andrew Bogut stepped up and over the Spurs in a 97-87 overtime victory to even the series at two games each. The scene shifts back to San Antonio for a pivotal Game five.
Warriors 97 – Spurs 87 (ot) – Harrison Barnes scored 11 of his game-high 26 points in the fourth quarter and overtime. Golden State rallied from an 8-point deficit with five minutes remaining. In the overtime, Golden State scored the first nine points in overtime — while San Antonio began the extra period 0 for 7.
Steph Curry hit two threes in the early going, but was never the same and finished with 22 points. Jarrett Jack scored 24 points grabbed 7 rebounds and handed out four assists. Andrew Bogut fought through foul trouble to pull down a game-high 18 rebounds. Golden State won the battle on the glass 65-51.
Manu Ginobili led the Spurs with 21 points and Tim Duncan finished with 19 points and 15 boards. Tony Parker added 17 points.
Series tied 2-2.
The Lineup:
Tyson Chandler echoes Bernard King (NY Times).
Check out Agents of Shield (YouTube).
Tiger rolls while Sergio Garcia chokes (The Shadow League).
Casualties reported in Benghazi explosion (CNN).
A look at Kevin Durant and Michael Beasley by Scoop Jackson (The Shadow League).
For those interested in stocks (CNN Money).
Brian Banks marches for wrongful convictions (The Grio).
Detroit is in one helluva hole (Washington Post).
Only the Houston Astros (CBS Sports).
Here is the NFL OTA schedule (NFL Labor).
Happy Birthday to one of the greatest musical minds ever — Stevland Hardaway Morris a.k.a. Stevie Wonder
We can go on and on…