(Getty Images)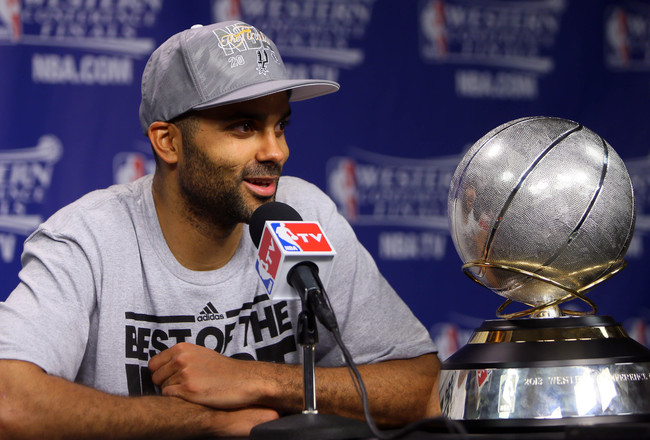 Tony Parker and the San Antonio Spurs are the Western Conference Champs.
The San Antonio Spurs passed circles around the Memphis Grizzlies in Game 4 of the Western Conference Finals. The Grizzlies struggled from the floor, but only trailed by six points at the half. Tony Parker played the kind of game which made him an MVP candidate in the first half of this season. Zach Randolph struggled once again and the Memphis Grizzlies were swept out of the Western Conference Finals 93-86.
Spurs 93 – Grizzlies 86 – Tony Parker scored a game-high 37 points on 15 of 21 shooting and handed out 6 assists in a dominant performance. The Spurs shot 52 percent in the first quarter compared to 29 percent for the Grizzlies. The Spurs led 24-14 after one quarter — the Grizzlies never led after their brief 4-point lead to open the game. Tim Duncan and Tiago Splitter completely snuffed out Memphis forward Zach Randolph. Z-Bo was shut down, averaging 11 points in this series compared to 19.7 in the previous two. Once again, the Spurs dominated the paint outscoring the Grizzlies 52-32.
Duncan finished with 15 points, 8 rebounds and 4 blocked shots, Splitter added four blocks also. Kawhi Leonard scored 11 points, grabbed 6 boards and had 5 steals.
The Grizzlies starting five shot an uninspiring 18 for 55 from the floor (33 percent). Reserve Quincy Pondexter was the lone bright spot for the home team. Pondexter scored 18 of his team-high 22 points in the second half to keep the Grizzlies within striking distance. Memphis won the rebounding battle 41-34, but were unable to capitalize because of poor shooting. Zach Randolph scored 13 points and grabbed 8 rebounds. The ineffectiveness of Randolph doomed the Grizzlies, shooting 3-for 25 for only 9 points in the first quarter for the series. Marc Gasol finished with 14 points, 5 rebounds and 5 assists. Mike Conley struggled from the floor shooting 4 for 13 for 9 points.
The Spurs await the winner of the Miami Heat/Indiana Pacers series.
Spurs win 4-0.
The Lineup:
NFLPA Former Players Daily (Paper li).
Here is the tracklist for Kanye West's new album (IFWT).
Brittney Griner had two more dunks than Z-Bo last night (Dime Magazine).
Ron Jaworski has doubts about Chip Kelly's offense (Sports Talk Line).
'Menace II Society' : Where are they now (The Root).
McCain's trip to Syria unlikely to sway Obama (Wall Street Journal).
Why Memphis never had a chance (The Jay Graves Report).
Pakistan worker killed giving polio vaccines (CNN).
Teams with multiple picks control the first round of the NBA Draft (Mike and McGoutry).
Here is the new Porsche Cayman (Porsche).
Wu-Tang Incorp., take you brain on spacewalk. Talk strange like Bjork, great hero Jim Thorpe… – RZA