(Jared Wickerham/Getty Images)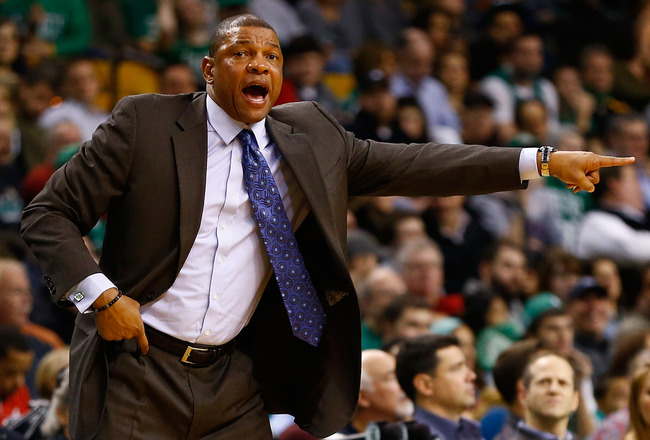 Donald Sterling has 21 million reasons to believe Doc Rivers is the man for the L.A. Clippers.
The Los Angeles Clippers hiring of Glenn "Doc" Rivers is meaningful in many ways. Rivers becomes the NBA's highest paid coach at the helm of one of the league's most exciting teams. More importantly, Doc Rivers' name alone may shift the balance of power in the NBA — something no African-American coach has done to this point.

Credit the Boston Celtics for realizing Doc Rivers would be better for their organization 3,000 miles away and not on their bench. Keeping Rivers around with the aging, bickering Celtics would only tarnish what he's done in Beantown over 9 seasons. K.C. Jones retired after coaching the C's to titles in 1984 and 1986. At age 51, Rivers is arguably the best coach in the league and without a doubt, the highest in demand. In ten seasons with the Celtics, Rivers compiled a regular season record of  416-305 and 59-47 in the postseason, including an NBA Championship in 2008. With San Antonio's Greg Popovich showing some coaching chinks during the NBA Finals and Phil Jackson holding out for the right deal/team, it's safe to say Rivers is the guy.
Rivers is only the fifth African-American coach to win an NBA title following: Bill Russell (Celtics), Al Attles (Warriors), Lenny Wilkins (Supersonics) and K.C. Jones (Celtics).
Rarely does the release of a head coach signal the rebuilding process of a franchise or the hiring of one sway the thoughts of a star player. Rivers' ripple effect spans 3,000 miles and two teams. Boston will almost assuredly look to move veterans Paul Pierce and Kevin Garnett in the very near future. Celtics GM and President of Basketball Operations Danny Ainge will construct the current team around point guard Rajon Rondo. Confirmed reports have recently surfaced about the volatile relationship between Rivers and Rondo — forcing Ainge to chose player over coach.
In Los Angeles, the Clippers are more than confident that the signing of Rivers will keep All-Star point guard Chris Paul in Tinseltown. The deal between involving DeAndre Jordan for Kevin Garnett is probably dead since player and coach were linked in one deal. Rivers will bring out the best in Jordan — who is 13 years younger than Garnett.
Not to be overlooked is the situation involving the Clippers roommates, the Los Angeles Lakers — who have some decisions to make involving Kobe Bryant and Dwight Howard. It's no secret Howard and Paul want to play together. Is the hiring of Rivers enough to sway Howard to skip possibly going to Houston and just moving across the hall? Of course if the Clippers gain Howard, it will cost them lose forward Blake Griffin.
Between Boston and Los Angeles rests the Doc Rivers coaching tree. Chicago Bulls head coach Tom Thibodeau served under Rivers from 2007-2010 and was the architect behind the great defensive teams the Celtics marched out during their two appearances in the NBA Finals in 2007-08 and 2009-10. Thibodeau has coached the Bulls to three straight playoff appearances since his arrival in 2010.
The x-factor in all of this is Clippers owner Donald Sterling. Sterling — who is known for his tight pockets and racial comments is paying Rivers $21 million over three seasons — more than he has any other head coach. The man who once said he wanted to fill his roster with "poor black kids from the South and a white head coach." now has more brothers on the roster than he would probably care to see. Rivers played for Sterling in the 1991-92 season.
Not even a cheap racist can escape Rivers' ripple effect.
The Lineup:
Continue to pray for Nelson Mandela (CNN).
Summer League flashback, Durant vs. Jennings (Ball is Life).
Texas abortion bill fails to pass (Washington Post).
Jalen Rose on the Scottie Pippen beatdown (Ball is Life).
It's getting crucial in Brazil (Wall Street Journal).
Woman scheduled to become Texas 500th execution (CBS).
Vernon Davis: Seattle is "building a dynasty" (Red Zone).
Phil Sheridan's mock draft 7.0 (Sheridan Hoops).
Air Jordan I mid "Sonics" (Nike Blog).
On this day in the NBA (Basketball Reference).
Never forget Roy Campanella.