(Getty Images)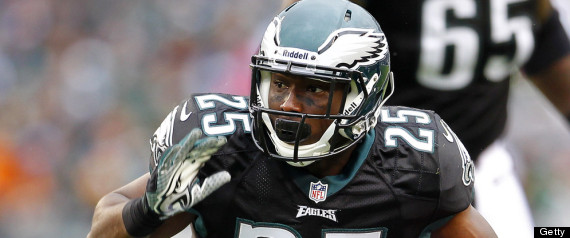 LeSean McCoy and the Philadelphia Eagles are staring .500 and sole possession of first place in the face
Make no mistake 3-3 is light years away from being 2-4. That is the dilemma facing seven teams in Week 6. Kudos to the Tampa Bay Buccaneers for taking the field against the Philadelphia Eagles despite three players contacting MRSA — a contagious and severe Staph infection.
Today's marquee match up is the New England Patriots hosting the New Orleans Saints — who are undefeated against the Patriots with Drew Brees under center.
Byes: Dolphins and Falcons.
Thursday Night
(SB Nation)
Brandon Marshall burned the NY Giants defense for two touchdowns Thursday Night.
Bears 27 – Giants 21 – Jay Cutler and Eli Manning are players moving in opposite directions. Cutler took another step forward in improving his stature in Chicago with two more touchdown passes and no turnovers in the Bears 27-21 victory over the winless New York Giants. The Bears improve to 4-2 — snapping a two-game slide after starting 3-0.
Eli Manning threw three interceptions, including two to Chicago's Tim Jennings — whose second pick thwarted a potential game-winning drive with 1:54 left in the game.
Sunday October 13, 2013 1:00 pm:
Green Bay Packers (2-2) at Baltimore Ravens (3-2) – The Packers defense takes a serious hit with Clay Matthews sidelined for about a month. The offense is looking to build on last week's success. Ravens quarterback Joe Flacco just has to connect with a receiver in a like jersey.
Ravens 27 – Packers 20
Cincinnati Bengals (3-2) at Buffalo Bills (2-3) – The Bills are running the ball better, but the Bengals are beginning to hit their defensive stride. When are they going to give Adam Jones his due as a clutch defender?
Bengals 34 – Bills 17 
Detroit Lions (3-2) at Cleveland Browns (3-2) – When was the last time these two teams faced one another with records above .500? Looking for film of Bobby Layne and Otto Graham. Calvin Johnson's status (knee, questionable) will play a role in Reggie Bush's performance.
Lions 24 – Browns 21
St. Louis Rams (2-3) at Houston Texans (2-3) – This is Matt Shaub's last stand. He may see the pine after his first turnover. Rams electric second year corner Janoris Jenkins is without a pick this season. Expect 30+carries out of the Texans backfield today.
Texans 23 – Rams 16  
Oakland Raiders (2-3) at Kansas City Chiefs (5-0) – The Raiders have won six straight at Arrowhead. Today won't be easy against the undefeated Chiefs. I expect that ol' school hatred to resurface in this one.
Chiefs 27 – Raiders 23
Carolina Panthers (1-3) at Minnesota Vikings (1-3) – I've read some things about Adrian Peterson's relationship with his son that are irrelevant and tasteless at this point. If Peterson finds solace on the field today, God bless him.
Panthers 23 – Vikings 21
Philadelphia Eagles (2-3) at Tampa Bay Buccaneers (0-4) – Up until last season, the Eagles have never played well in their visits to Tampa no matter what their record. Doug Martin will see a lot of touches today. How much will Nick Foles change Chip Kelly's approach? Greg Shiano is a snake.
Eagles 29 – Buccaneers 17
Pittsburgh Steelers (0-4) at NY Jets (3-2) – Still trying to absorb the records of these two teams. Geno Smith is exuding the confidence critics have attempted to crush — with NYC at his back. Muhammad Wilkerson may be this season's best interior lineman.
Jets 23 – Steelers 14
Games beginning at 4:00 pm or later:
Jacksonville Jaguars (0-5) at Denver Broncos (5-0) – Question here is will the Broncos cover the spread in the first quarter?
Broncos 38 – Jaguars 12
Tennessee Titans (3-2) at Seattle Seahawks (4-1) – Seattle is almost unbeatable at home. The Titans traveled a long way just to get drubbed.
Seahawks 27 – Titans 13
New Orleans Saints (5-0) at New England Patriots (4-1) – Drew Brees and the Saints send a message to the Patriots today the way no one has since the days of Steve Grogan.
Saints 37 – Patriots 21
Washington (1-3) at Dallas Cowboys (2-3) – The fact that Tony Romo can continue to foul up and not have to look over his shoulder has to be reassuring. Washington has to lean on Alfred Morris if he can go.
Cowboys 27 – Washington 17
Monday October 14, 2013 8:40 pm:
Indianapolis Colts (4-1) at San Diego Chargers (2-3) – Phillip Rivers is the Tony Romo of the AFC. The Colts have to increase Trent Richardson's workload.
Colts 23 – Chargers 20
Last Week: 4-8
2013 Season: 32-27