(NBA)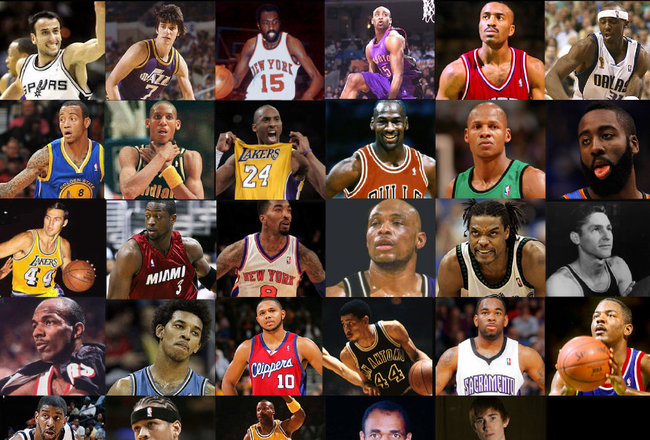 Following basketball in the late 1980's came with certain rules we all understood. You feared and hated the Bad Boy Pistons. At the same time, you also hated and respected the Showtime Lakers. Finally, the shooting guard position was where most of the game's best scorers were found. Just in the 80's alone, there was Michael Jordan announcing himself as the next king of the sport in Chicago, Joe Dumars being the only semi-clean Bad Boy in Detroit, and Clyde Drexler being the Mr. Pibb to Jordan's Dr. Pepper in Portland.
That was just off the top of my head, but more importantly, what has happened to our shooting guards? Where did they go?
A quick trip over to Basketball Reference reminded me of Sidney Moncrief in Milwaukee, Rolando Blackman in Dallas, and even Ron Harper in Cleveland. Before them were players like Bill Sharman — who shot 42% from the field and 88% from the line for his entire career — not including leading the league in free throw percentage five seasons in a row and 7 times overall — during a dark offensive era for basketball in general. The Logo Jerry West is the spiritual heir to Michael Jordan, David Thompson, and Earl Monroe was an innovator the type of which I cannot do justice to in a simple paragraph, no matter how hard I tried.
Perhaps I'm overreacting, it's entirely possible I could simply be remembering things as I want them to be. Nostalgia coloring my thoughts, instead of realizing how they are. Let's go back to that dark period between the end of the Jordan Era and the beginning of the LeBron James Era. Of course, I am referring to the end of the Jordan Era in Chicago. Washington's Jordan was an old man whose success came on muscle memory and willpower. I don't want to demean what he was by somehow implying this is anything like the MJ of the Bulls. The NBA was regaining its footing after the exit of the game's best player. The league was loaded with talent at the shooting guard position. Reggie Miller was still around and the position was in good hands after he was gone. Tracy McGrady in Toronto and later in Orlando, Ray Allen in Milwaukee, Allen Iverson in Philadelphia and Kobe Bryant in Los Angeles. Hell, Steve Smith was in Portland as well as an ascending Dwyane Wade, but because Jordan was gone, it felt strange and not quite right.
Now, though? You'd kill for that kind of bumper crop. Instead, we have James Harden and a list of guys who play the position, but very few who actually are shooting guards. We see this a lot with point guards, but maybe because it's easier to tell, we notice it more. There is a vast difference between just explicitly playing the position that your coach has given you, and implicitly understanding the responsibilities that come with it.
Right now, there's Kobe and D-Wade — who are in the winter of their Hall of Fame careers and can no longer be expected to carry the position for much longer. There is James Harden in Houston, haunting OKC fans with every bucket (how much of that we're going to see with Dwight Howard around remains to be seen). Andre Iguodala in Golden State — who at least has the defense and dunking part of the shooting guard equation down, then….. nothing. Paul George might be our next best hope, but he is coming off one huge year and secondly, he plays for the Indiana Pacers, a defense-first squad who — doesn't give a damn about scoring and definitely does it more with Hibbert and West than they do with their back court. Bringing up the rear is a collection of defense-first guys: Tony Allen and Iman Shumpert. Players who haven't lived up to their potential: Tyreke Evans and Eric Gordon. Terrifyingly shameless gunners: Nick Young and Monta Ellis or guys for whom the book is still out: Bradley Beal, Harrison Barnes and Dion Waiters. That's a lot of ifs and maybes for what has always in my opinion been the position where the game's most elite scorers resided.
Most of this is easy to understand. We have more combo guards now than we used to. Russell Westbrook is one, as are Derrick Rose and Stephen Curry. Our problem is we're looking at specifics and in the NBA of the 2010's, specifics are no longer found. We're in a new era and perhaps to get to where we need to go, those specifics must die. It's a shame in the case of the shooting guard, it seems like they are dying so fast.