(Philly.com)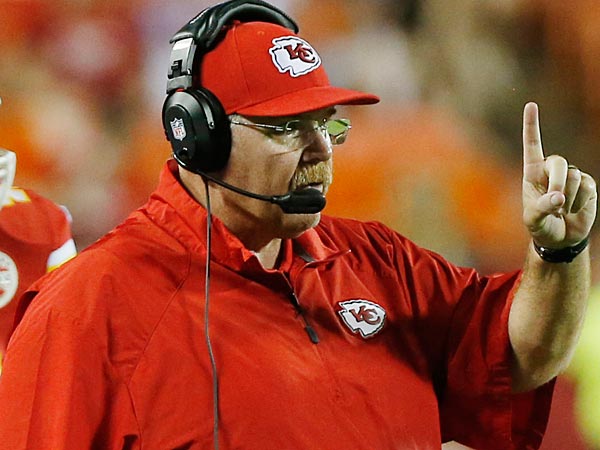 Andy Reid came to Kansas City with one goal in mind. He's almost halfway there.
I expected a noticeable improvement from the Kansas City Chiefs when Andy Reid was awarded the job, but a 7-0 start is a bit much. The Chiefs have looked impressive on the first two months of the season with an above average offense and a reckless defense — which isn't afraid to get after the quarterback.
We're two weeks away from the first meeting between the Chiefs and the one-loss Denver Broncos, but fans are no less excited about the renewal of this AFC West rivalry.
Byes this week: Bears, Chargers, Colts, Ravens, Texans and Titans
Thursday Night:
Cam Newton donned his Superman cleats and proceeded to finish off the Buccaneers.
Carolina Panthers 31, Tampa Bay Buccaneers 13 – The Carolina Panthers are on their first three-game winning streak with Cam Newton under center. The Panther have one four of their last five games and are playing with more vigor on both sides of the ball under head coach Ron Rivera. Newton was once again the offensive catalyst for Carolina — who scored 30 or more points for the third consecutive game. Old times have returned for the winless Bucs, some of the teams fans could be seen wearing paper bags over their heads entering Raymond James Stadium.
Sunday October 27th Games beginning at 1:00 pm:
San Francisco 49ers (5-2) at Jacksonville Jaguars (0-7) – The Niners are aiming for their fifth win in a row. That sound you hear is the defense smacking its chops. Jacksonville has scored only 76 points the entire season.
Niners 34 – Jaguars 6
Cleveland Browns (3-4) at Kansas City Chiefs (7-0) – Another season means another quarterback carousel in Cleveland. The Browns are light years away from a three game winning streak in September. The Chiefs defense is allowing a little more than 11 points per contest.
Chiefs 27 – Browns 12 
Miami Dolphins (3-3) at New England Patriots (5-2) – For all intents and purposes the Patriots got jobbed last week. The good news is Rob Gronkowski hasn't missed a step. The Dolphins have dropped three in a row after opening the season with a three game winning streak. So much for that challenge to the Patriots for the division.
Patriots 24 – Dolphins 16
Buffalo Bills (3-4) at New Orleans Saints (5-1) – The Bills defense turned opportunistic against the Dolphins last week. Against the Saints, Mario Williams & Co will need more of the same. The Saints are preparing to pull away in the NFC South.
Saints 31 – Bills 24
Dallas Cowboys (4-3) at Detroit Lions (4-3) – I like the Lions in a very entertaining game. The Cowboys cannot score 17 points against this team and expect to win.
Lions 28 – Cowboys 27
New York Giants (1-6) at Philadelphia Eagles (3-4) – The Birds let one get away last week as Chip Kelly's offense continues to sputter. With Michael Vick as the starter, the offense has a fighting chance. The Giants are beginning to wake up with Brandon Jennings on a weeks rest. Philly's last home win came against the G-Men.
Eagles 23 – Giants 21
Games beginning at 4:05 or later:
Pittsburgh Steelers (2-4) at Oakland Raiders (2-4) – The Steelers gutted out a tough division win against the Ravens. The Raiders are making progress, but like their opponent is looking for some consistency.
Steelers 24 – Raiders 20
NY Jets (4-3) at Cincinnati Bengals (5-2) – There has been little talk about the Jets defense – which gives up points as it punishes. Andy Dalton and A.J. Green are good for two scoring hookups in this one as the defense will be out to rattle Geno Smith. 
Bengals 23 – Jets 17
Atlanta Falcons (2-4) at Arizona Cardinals (3-4) – I wonder what Tony Gonzalez is REALLY thinking about this season.
Cardinals 20 – Falcons 17
DC (2-4) at Denver Broncos (6-1) – This has all the makings of a great game. I don't see Robert Griffin III turning it down after last week's outing. The Broncos were embarrassed last week and are looking for someone to take it out on.
Broncos 33 – DC 27
Green Bay Packers (4-2) at Minnesota Vikings (1-5) – Paging Josh Freeman! I have no idea who that guy was under center for the Vikings last week. The Packers will now have to make due without tight end Jermichael Finley.
Packers 24 – Vikings 13
Monday October 28th 2013 8:40 pm:
Seattle Seahawks (6-1) at St. Louis Rams (3-4) – No Sam Bradford means absolutely no chance for the Rams.
Seahawks 32 – Rams 10
Last Week: 8-7
2013 Season: 48-39