(NFL.com)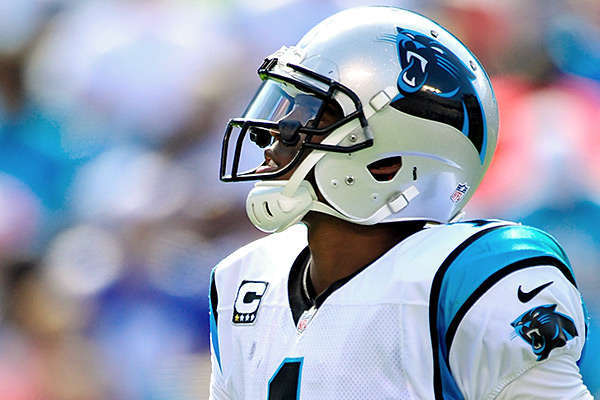 After five straight wins, things are finally looking up in Carolina.
Sunday night's meeting between the Kansas City Chiefs and the Denver Broncos is enveloped by a number of games which could alter the direction of the NFL postseason. In Philadelphia, the Eagles are looking to move into first place in the NFC East if they can complete the season sweep of DC. The Carolina Panthers are on the prowl, and a victory over the New England Patriots coupled with a San Francisco 49ers win over the New Orleans Saints moves them into a first place tie in the NFC South.
Elsewhere, the Detroit Lions, Seattle Seahawks and Cincinnati Bengals cannot afford any slippage in their divisional leads against the Pittsburgh Steelers, Minnesota Vikings or Cleveland Browns, respectively.
Byes this week: Cowboys and Rams
Thursday Night:
The Indianapolis Colts spotted the Tennessee Titans 14 points before running back Donald Brown took over and pushed the Colts to a 30-27 victory. The Colts have not lost back to back games under Chuck Pagano — winning their eighth in a row after a loss. Tennessee's Chris Johnson started out hot — rushing for 70 yards and two touchdowns in the first quarter — only to be held to 16 yards the rest of the way. The Titans failed to recover a critical onside kick late in the game for the second consecutive week.
Sunday November 17, 2013. Games beginning at 1:00 pm:
NY Jets (5-4) at Buffalo Bills (3-7) – Don't buy into the BS about the Bills second-guessing their choice of quarterback E.J. Manuel. Manuel is way down on the list of problems in Buffalo. The Jets need this one to stay in the postseason mix.
Jets 23 – Bills 18
Atlanta Falcons (2-7) at Tampa Bay Buccaneers (1-8) – The Falcons are a shell of themselves and the Buccaneers can't get out of their own way. Black this one out in both cities.
Falcons 27 – Bucs 13
Detroit Lions (6-3) at Pittsburgh Steelers (3-6) – Not quite a trap game, but one the Lions could slip up in. Ben Roethlisberger will show how bad he wants to stay in Pittsburgh.
Steelers 28 – Lions 20
DC (3-6) at Philadelphia Eagles (5-5) – Chip Kelly and the Eagles can expect the Robert Griffin III who appeared in the second half of their first meeting. The Eagles defense has played great for the past six weeks. If linebacker Mychal Kendricks can go, he will be assigned to spy on Griffin. Cary Williams has his work cut out for him dealing with Pierre Garcon. The home losing streak ends here.
Eagles 31 – DC 20
Arizona Cardinals (5-4) at Jacksonville Jaguars (1-8) – The Cardinals are hanging around at the right time. How come no one is talking about Tyrann Mathieu? He's all over the field for the Cardinals and 53 tackles and two picks while lining up at both corner back and safety.
Cardinals 33 – Jaguars 17 
Oakland Raiders (3-6) at Houston Texans (2-7) – The Raiders kindly refused the 17-points the Giants offered in the first half and took a 24-20 defeat back home. Andre Johnson is warming up for the Texans, too bad he's the only one.
Raiders 26 – Texans 20
Baltimore Ravens (4-5) at Chicago Bears (5-4) – The Ravens playoff hopes rest on a victory at hostile Soldier Field. Josh McCown will probably get the nod while Jay Cutler completely heals. Has anyone seen Ray Rice lately?
Bears 27 – Ravens 17
Cleveland Browns (4-5) at Cincinnati Bengals (6-4) – The Browns are looking for a season sweep of a Bengals team coming off back to back heart breakers. Bengals rookie Giovani Bernard workload will increase as the postseason draws near.
Bengals 30 – Browns 17
Games beginning at 4:05 or later:
San Diego Chargers (4-5) at Miami Dolphins (4-5) – The Dolphins were never dialed in last week against the Buccaneers and the Chargers late rally against the Broncos fell just short. The distractions in the Dolphins locker room are too much to overcome — even at home.
Chargers 23 – Dolphins 16
Green Bay Packers (5-4) at NY Giants (3-6) – The Giants three consecutive wins will be for naught if they can't handle the vulnerable Packers.
Giants 27 – Packers 10
Minnesota Vikings (2-7) at Seattle Seahawks (9-1) – Seattle is making it look too easy at both ends of the field. Things will get interesting after their bye week.
Seahawks 23 – Vikings 10
San Francisco 49ers (6-3) at New Orleans Saints (7-2) – There won't be 40 first downs by the Saints this week. If they can get half that in points, it should be enough. The lack of a go to receiver other than Vernon Davis has stifled the Niners offense.
Saints 27 – Niners 22
Kansas City Chiefs (9-0) at Denver Broncos (8-1) – If Jack Del Rio wants a head coaching gig in the NFL again, he'll throw the hobbled Peyton Manning a life raft the first time he meets that Chiefs pass rush. I don't see the Broncos pushing this team around at all. Andy Reid gets up for in-season games like this.

Chiefs 29 – Broncos 21
Monday November 18, 2013, 8:40 pm:
New England Patriots (7-2-) at Carolina Panthers (6-3) – A win here does so many things for the Panthers and in particular Cam Newton. Last week's gut check win against the Niners was the Panthers first against a legit contender. Bill Belichick may have prepared for Newton, but this Carolina defense is legit.
Panthers 26 – Patriots 19 
Last Week: 7-7
2013 Season: 72-53