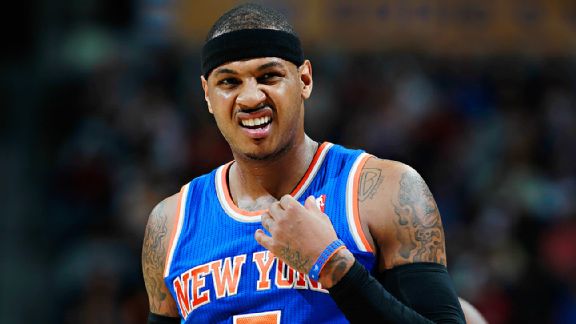 What in the world is going on in Gotham?
Full disclosure: I am not a Knicks fan, but I am a basketball fan. I'm doing this because I know a lot of Knicks fans, and its past time for the self-styled Mecca of Basketball to have a team they can be proud of and stay proud of for more than a few years. Let us be honest with each other, for most of my life, New York City has been called the Mecca of Basketball, and in that time, the professional team which plays in our shining jewel of an arena in Midtown has been, simply put, hot garbage. Now, this is in some ways due to the mismanagement of two separate general managers, Scott Layden and Isiah Thomas. In fact, since the 2000′s, the Knicks have had one good season. Last year's team, which won 54 games, and for whatever reason, those two teams feel as far away as Hawaii is from Jackson Heights. Right now, this team is past broken and on the fast track to reminding Knicks fans of the era of Ken Bannister, Rory Sparrow, and Johnny Newman with Bernard King being played ably by Carmelo Anthony. This needs to stop, and I think I know how to stop it.
Step 1: Do not trade Iman Shumpert.
Photo Credit: Debby Wong\USA Today Sports
Another Knick sacrificed on the altar of the win now ethos?
Credit for this stat goes to Robin Lundberg of ESPN Radio in NY: only 4 out of the last 20 draft picks by the NY Knicks have stayed with the team longer than 3 years. In a league where young players are on controlled salaries, that is a terrifyingly bad number. Now while you could argue that the Knicks are bad drafters, this point really is not as true as it could have been a few years ago. What it actually shows is just how unwilling to let young players develop the Knicks organization actually is, and how greedy James Dolan is for stars. Would Danilo Gallinari, Wilson Chandler, and Jordan Hill look good on this team right now? Do you think they would help with some of the problems that this team is having? You don't have any of them, not a single one. Two for a reason we will get to later, and the other because you felt like you had to trade a young asset to Houston for the corpse of Tracy McGrady. This is common, honestly, and it needs to stop right here and right now.
Iman Shumpert can be a building block for the future of the Knicks. He is a dogged defensive guard, and has the potential to be, at the very least, the sort of player Tony Allen is for Memphis now (with maybe a little better J). Yet, every day, trade rumors swirl around him. The sad part of it is that this, more than likely, will not be for a young player. It will be for some veteran closer to the end than the beginning, because James Dolan demands someone he can put on radio ads and on the media guide. Keep Iman Shumpert. Make him part of the solution. Do not blame him for your other problems.
Speaking of those….
Step 2: Mike Woodson needs to accept that the Iso-Melo offense does not work, and go to something approaching the drive-and-kick offense that worked so well for them a year ago.
Photo Credit: Bill Baptist\Getty Images
Can he adapt or is he overmatched?
Any Atlanta Hawks fan can tell you Mike Woodson's good qualities. He was a good teacher of defensive principles, and seemed to be able to get through to Josh Smith. However, we can also tell you his bad qualities, and chief amongst them, right there at the top of the list in big bold letters, are two words: Iso Joe.
Maybe it was because Woodson never had a point guard worth a damn for those Hawks teams. Nonetheless, everyone knew what was coming. Joe Johnson's usage rates during his years in Atlanta were always in the mid to high 20′s. He had the ball in his hands a lot.
The hypothesis was, at least for a while, that this was what he had to do with the talent he was given. The theory, which followed the hypothesis, was that, if he had a point guard who could run the show and keep the ball moving, we wouldn't see as isolation-heavy an offense in his next step, wherever that might have been.
The truth? No. Mike Woodson is, for whatever reason, exactly the sort of coach Hawks fans knew him to be. Unimaginative and stubborn like a mule. Incapable of creating an offense that suits all the players on his team, instead of just the best one. The paradox of this is that one of the reasons why he was made the full-time coach after Mike D'Antoni was forced out is that he wasn't stubborn, wasn't going to inflexibly go with something that wasn't working.
All of the things that Mike Woodson did last year to ameliorate the isolation basketball tendencies of his best player, whether playing two point guards on the floor together to ensure better ball movement or spreading the floor with an armada of 3-point shooters, are gone.
With the way that things are now, this team needs more work than we thought, and my last step to fix the Knicks is the hardest step.
Step 3: Seriously consider trading everyone you can, even Carmelo Anthony.
Photo Credit: Reuters
Could he be saluting goodbye?
I would hope that by this point in the process, you have seen how I have come to my conclusions.
This team, as presently constituted and with its basketball IQ that is somewhere between a potato and a heat lamp, will have trouble winning very many games, so how to fix it is the question. The only acceptable answer hurts this year's team. However, if you want to win, this is what you have to do: trade everyone.
A contender might need Raymond Felton, or JR Smith…enough to give you young players, draft picks, salary relief, or some combination of the three. Same thing with everyone else on this team…including Carmelo.
That is right. You have to consider trading him. If you can get an offer that gives you a chance to build a long-term championship contender, you do it. The way this is now, the way this team has been constructed and the way it plays, you are headed straight for the worst place any NBA team can be: the treadmill. Where you are not bad enough to get a transformative player, but not good enough to reasonably contend for a championship.
These are the ways to fix the Knicks. Some might be easy, some might be hard. However, it has to be done, because the longer it goes this way, the worse it is going to get. Moreover, make no mistake, if this does not happen, it is going to get worse.