(GQ.com)
OKC is again at the top of the league.
Perhaps it's the arrival of what is supposed to be one of the most loaded draft classes in recent history that is making me think his way. Or maybe it's the slow realization that the NBA of the past few years is shifting under our foot with the speed of Russell Westbrook on a fast break. Whatever the reason is, basketball is going to undergo a massive sea change. At this moment in the NBA, things are changing faster than we can keep up with them. So if you don't stop and take a minute to check where we are, you're going to miss something vitally important.
The Eastern Conference is so bad that talk of abolishing conferences has gone from a sabermetric pipe dream to something seriously being talked about. Derrick Rose is out with another knee injury, leading to serious questions about whether he's ever going to be the same player. And in those are lots of things to think about, but I have some other thoughts as well. Won't you join me as I go through them all.
Photo Credit: Ryan Hurst\Posterizes.com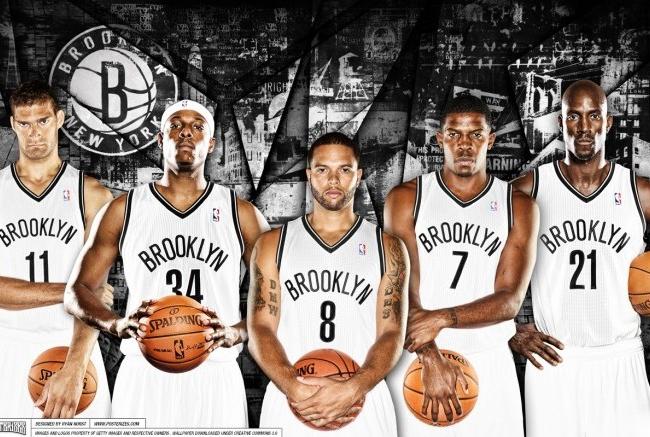 Sometimes old is just old.
1: The Brooklyn Nets might be the most dysfunctional team in the NBA, which is truly the sort of accomplishment no one wants to have. Also, Deron Williams is about to lose the right to call himself a top flight point guard, if he hasn't already.
There is, on its face, nothing wrong with going all-in with the idea that you can be a championship contender and doing so by building that team in a microwave with veteran stars looking for one great moment in the sun. The most notable example of recent memory was the Houston Rockets of Barkley, Olajuwon, and Pippen. Conversely, there is also a lot of evidence that going with a young coach who is an ex-player can help if you have a young team that needs to be guided through the peaks and valleys of the long NBA season. What does not work? Ever? Trying to do both those things at the same time.
The Nets went all-in, believing they had the ability to become a contender almost immediately. They might have fooled us all, but before they did any of that, they fooled themselves first. They fooled themselves by trading what feels like every draft pick for the rest of the decade because they needed the "veteran experience" of KG and Paul Pierce to get them over the hump. What we now see is that those two old lions, those warriors who gave us so many shining moments, are done. Remember that treadmill I mentioned in my last article? The Nets are tied by the feet to it and stuck there for the foreseeable future because of this gamble. They fooled themselves by believing  that anyone could coach an NBA team if you had a whiteboard and some general offensive and defensive principles.  What the Nets are now realizing is that coaching on the NBA level is about more than just X's and O's. It's about everything from reading when your team needs a timeout to get itself back under control and preventing a blowout from taking place, to finding a starting lineup that works and sticking with it. However,  the most dangerous thing that the Nets fooled themselves into believing, and something that is looking more and more like a disastrous gamble, is that Deron Williams is still a top-flight point guard. Because, right now, the evidence on the ground is pretty thin to support that.
 The Nets made the playoffs last year for the first time since Deron was traded there after missing the playoffs back-to-back years. They lost a game 7 at home to a Chicago Bulls team for whom the words "Injury Ravaged" were a massive insult. Their MVP-caliber point guard was out all year with an ACL tear, and their best interior defender was on one leg. Compounding this, Deron Williams was outplayed badly by Nate Robinson who now is a guard off of the bench for the Denver Nuggets. All of this happened in a game 7 at home. Chris Paul doesn't let that happen. Neither does Tony Parker, or Russell Westbrook, or a healthy Derrick Rose.
One of the reasons KG and Paul Pierce were brought in was to provide extra "leadership" and "Savvy" for the Nets, because it was understood that Deron didn't exactly set the world afire in those 2 categories. Name me the top-flight point guard who has to be surrounded with more leadership because people think his body language and leadership ability can be questioned. I'll wait.
Some of the problems with the Nets can be fixed. Not all, but some. Unfortunately, if Deron Williams can't get back to the level he played at in Utah, none of it's going to matter. Because the Nets will be doomed.
(Getty Images)
Part of the Problem?
2: Cleveland's continuing struggles and rapid-fire slide towards post-Lebron irrelevance is proof why the draft matters, and why if you blow it, your chances of success decrease exponentially.
In the past 4 years, the Cleveland Cavaliers have drafted in the top 4 all 4 years. Are you curious about how many of those picks they have gotten right, how many of those guys are the sort of guys you'd draft again at those same spots if the draft was redone? ONE, and that's Kyrie Irving. The other 3 are either not the sort of guys you'd take at the spot they were drafted (Tristan Thompson, Dion Waiters), or potentially out-and-out busts (Anthony Bennett).
Let's be clear about something before we go any further on this. It is not that I am saying Bennett, Waiters, and Thompson are bad players per se. Although, that is quickly becoming a thing you'd say about Anthony Bennett. Rather, it's that they aren't what a franchise with the disadvantages of the Cavaliers needs to work. If the Cavs want to win, they have to build through the draft. There is no other way around this. They don't have enough of a winning tradition to sell free agents on that, and they're not exactly a tremendous media market. The only way they can build a championship contender is to follow the model of the Pacers, which is draft well and surround your young core with the right kind of veterans.
The Cavs can't do this because they missed the 1st part of the equation. Dion Waiters is looking more and more like a 3rd guard every day and Tristan Thompson is solid but in no way seems like the sort of guy you could go to war with in a tight playoff series. Then there's Anthony Bennett. Every which way you turn, he got jobbed. Hey you've played power forward all your life? Here, get drafted by a team that already has young power forwards on the roster who need your minutes as well as the ball, so you then get converted to a position you've never played before with a coach who hasn't exactly shown a great facility with developing players. Add to that the normal expectations of being the #1 pick, plus the fact that he is suffering from asthma and sleep apnea at the same damned time, and you have a mini-disaster. Every day this season goes by, it looks more and more like the Cavs should have just drafted Victor Oladipo. He fits so much more of what they do, and best for a team whose best player is a ball-dominant guard, he doesn't need the ball to work. He's also the sort of guy you can imagine defending a good wing player in a big playoff series. The Cavs have no one like that. Until they can get someone who fits that mold, they can forget about being as successful as they want to be.
The once and future king?
(Brett Deering\AFP)
Running the league.
3: We are in the middle of a bumper crop of NBA talent that rivals any era ever, and we would all be served to sit back and enjoy it.
Look around at the league for just a minute. Right now it's as good as it's been in any era. The two best players are two completely sui generis forces. One is a hybrid of Magic and Dr. J who routinely puts up the type of loaded box scores you would usually only see in video games, and can defend 4 positions on the floor (sometimes 5) with ease while playing 40+ minutes every night. The other is perhaps the smoothest, and most efficient, scorer since a prime Larry Bird who just happens to be 6-10 and built like a praying mantis. They both never short any fan on effort, play hard every night, and are exactly the sorts of things that we claim to want in our superstars.
But the best part? They're not alone. Past LeBron and Kevin Durant, Paul George is staking a very serious claim to being the heir to the throne of Tracy McGrady as the best player on the team that can stop a dynasty in the making.  Chris Paul is exhibiting a complete mastery of the point guard position not seen since a prime John Stockton, or a prime Isiah Thomas for that matter. Russell Westbrook is as explosive as C4 packed inside dynamite and TNT, and he's the sort of guard who, 10 years ago even, would have been made a shooting guard but now has the freedom to become the combo point guard. Stephen Curry is a tremendous shooter, and the heir to Ray Allen, Reggie Miller, and all the rest of the dead-eye shooters in league history.
The league is loaded. Watch everything. Enjoy it more. The time for cynicism can be later. Right now, treasure what you have in front of you.