(Kevin C. Cox/Getty Images)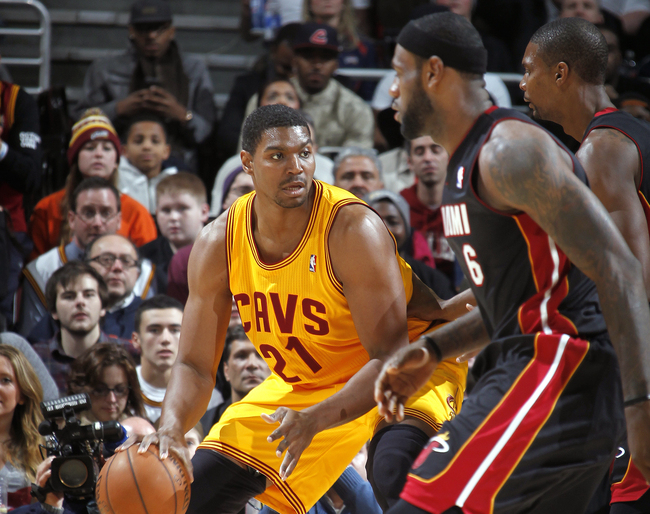 Former All-Star turned journeyman Andrew Bynum will be courted by contenders like the Heat once he is waived by the Bulls.
In a shocking move, the Chicago Bulls traded two-time all-star forward Luol Deng to the Cleveland Cavaliers for center Andrew Bynum. The Bulls will waive Bynum — making him a free agent and avoiding the $12.3 he is owed by the Cavaliers. The Bulls also avoid the luxury tax and will save themselves about $20 million. Chicago also gets a conditional first round pick and second round picks in 2015 and 2016.
Are the Bulls making headway to enter the Carmelo Anthony sweepstakes this summer?
Wolves 126 – 76ers 95 – The visiting Timberwolves snapped Philly's season long four-game winning streak. Minnesota made a season-high 16 treys as they placed seven players in double figures. Kevin Love led all scorers with 26 points. Thaddeus Young, the reigning Eastern Conference Player of the Week, led the 76ers with 20 points.
MIN
PHI
P
Love
26
Young
20
R
Pekovic
14
Anderson
7
A
Rubio
8
Carter-Williams
7
Nets 91 – Hawks 86 – The Nets won their third game in a row, but were without point guard Deron Williams — who was nursing a sore ankle. Joe Johnson scored a game-high 23 points. The Hawks committed 18 turnovers and shot 36 percent from the floor were led by Paul Milsap's 16 points.
ATL
BKN
P
Millsap
16
Johnson
23
R
Carroll
7
Garnett
10
A
Korver
6
Johnson
4
Clippers 101 – Magic 81 – For the second time in his career Darren Collison has stepped in for an injured Chris Paul and played well. During the 2009-10 season, he stepped in for Paul over a 40-game stretch with the New Orleans Hornets averaging nearly 19 points and 9 assists. Collison led the Clippers with 21 points and added 7 assists as Los Angeles led by as many as 35 points. Reserves Moe Harkless and Victor Oladipo led Orlando with 22 points each.
ORL
LAC
P
Harkless
22
Collison
21
R
Davis
11
Jordan
17
A
Oladipo
5
Crawford
8