Basketball is heating up in the two precincts that matter. With everything that's going on, you could be forgiven if the information has created a white noise of sorts — leaving you unable to keep up. It is understandable Andrew Wiggins's talents blend in with Kobe Bryant's views on the current NBA and Kevin Durant's scoring binges, blending into some sort of confusing miasma. Without putting too much emphasis on it, this is why I'm here. Walking you through what's going on, giving you a point of view you might not have thought of, and to generally provide a bit of levity you'll need during what is the first truly serious part of the basketball season.
(Photo Credit: NBA Entertainment\Getty Images)
Don't get us started on Steve Nash winning two MVP awards.
1. MVP votes have always been screwed up since the first time they came up with the award.
Let's be clear, LeBron James is the best player in the world, still. Are you curious about how I can make a statement that absolute? Easy. When we assembled the best players in the world for the most recent Olympic tournament, who was the best among them? LeBron James and it wasn't close. He has changed the way people understand basketball, how it can and should be played. However, he hasn't won the MVP every year since his brilliance became clear and you can make the argument he shouldn't have won every year. The bigger point is the MVP has been a crap shoot from the beginning.
Part of this is the award is always a subjective thing with no criteria save for the amount of games played. Perhaps because of that, it's also been voted on by two voting blocs as disparate as can be. The players and the media. Both groups, in their own way have screwed up more than their fair share of MVP votes.
Everyone knows about the media screw-ups. Karl Malone over Michael Jordan, Charles Barkley over Michael Jordan, David Robinson over Hakeem Olajuwon and the most recent, Derrick Rose over LeBron James. Those are stories everyone knows and many times, they are solved by the players on the court. In fact, those who want use this as a basis to have the media removed from voting and handing the vote back to the NBA players, this sounds like a good argument on the face of it.
The trouble with it is the players from the start of the league through the 1979-80 season screwed up enough MVP votes to have their own list. Wilt Chamberlain averaged 50 points per game for an entire season, Oscar Robertson had the best season any guard has had in the pre-Jordan era and neither won the MVP in their respective season. Bill Russell did. This was also a league with fewer teams, so it's easy to figure out how this happened. Jerry West never won the MVP once, but Willis Reed and Wes Unseld did.
As long as the MVP criteria is subjective and not objective, as long as you can make any argument you want using any rationale that you want, we're going to have stuff like this go on. Whether or not that is a problem is up to you.
(Photo Credit: McDonald's All American Game)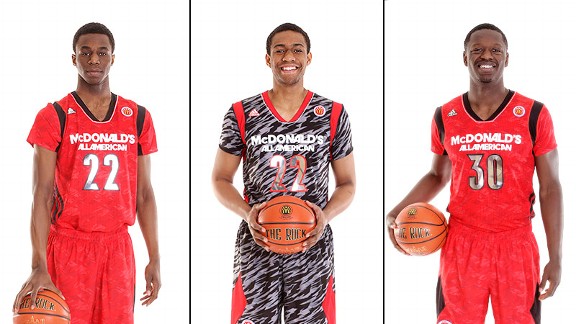 Generation Next?
2. With the possible exception of Julius Randle, the rest of the 2014 NBA Draft Class should stay right where they are.
This process proves why we need a true basketball developmental league based on the model from major junior hockey
(Author's Note: This is more of a discussion about whether they are physically and emotionally ready to be successful at the NBA level and less a question of whether they should go for any other reasons).
I mentioned this once before and it bears repeating: At all the non-NBA levels of the game, player development takes a backseat to winning games. Think of how many blue chip recruits get to college and have are still huge flaws in their game, things you think they would have ironed out by now. Moreover, sometimes, the need to win games means things which make players the best players they can be are sacrificed for the win-now because, "I have to save my job" part of the cesspool that is amateur athletics. Sure, some people do it right, but they are the exception that proves the rule. The point is always to win, to hang a National Championship banner or get to the Final Four just one more time.
That is why sometimes staying and getting better is the best idea. I understand it's hard, but there are reasons for each to stay. (This is where I remind people that with a little work, we could have a real developmental league subsidized by the NBA Players Association built on the USA Hockey model. However, I have given up on that).
The first reason, is to understand who the contenders for these blue-chippers are. Past Denver, all are franchises in varying degrees of dysfunction. Milwaukee? The backcourt cannot get along, their best big man got pinched for a bar fight and animal cruelty in the same year and the franchise is perpetually shadowed under relocation rumors. Sacramento? Come on man. If you had the choice between staying at Kansas for your sophomore year or playing with Rudy Gay, would you honestly choose Rudy Gay? Cleveland is not in here because they would mess around and draft Mitch McGary instead of anyone we're talking about.
What's important is they need to play all the time. If I were Jabari Parker, Andrew Wiggins or anyone else except Julius Randle, I would be signing up for all the international tournaments available. FIBA Under-20 Championships refining your game or being 20 games under .500 with the Sacramento Kings? What's your choice?
Julius Randle is absolutely ready. He's the world's best possible Zach Randolph. There is nothing more his game needs except a paycheck to watch him work. He might be as complete a prospect as I've seen in a while. This kid is beyond ready. Completely incestuous process of how we got here be damned.
[yotuube=http://www.youtube.com/watch?v=HJqaMioXegU]
This completely in incestuous process got me thinking about something else. What is the purpose of college basketball, really, for the athletes? To be showcased? In 2014, if someone wants to know about you, they'll be able to find you. If it was up to me and unfortunately, these things never are, the NCAA would cease to be. The whole thing would be finished. In its place would be a simple two-step plan.
Step 1: A blue ribbon Panel made up of respected talent evaluators (think Jerry West) and mental health professionals who decide the 5 or 6 prospects who can head into the NBA draft. I don't want anyone in the league who cannot handle the responsibilities both on and off the court.
Step 2: For everyone else, an old-fashioned dispersal draft, where you are sent to one of a handful of franchises run by the NBPA. These are affiliated with USA Basketball and will have a close relationship with FIBA as well. Anyone who wants to play for their national team can without fear of reprisal or repercussions. In fact, it wouldn't be the worst thing in the world if one of these teams were the USA Under-20 team.
If that plan were in fruition, we could finally put dynamite to the NCAA. Isn't that a good enough thing for everyone? Isn't paying young basketball players and developing them as athletes and as men better than the sham of amateurism?
3: The possibility of a duel between Kevin Durant and Carmelo Anthony for the NBA scoring title should make the mouths of all NBA fans water in appreciation.
Photo Credit: Mark Ralston AFP\Getty Images
The King and His Challenger?
Sixty-two point bombardment aside, Carmelo Anthony is not the best scorer in the league. Kevin Durant is. Kevin Durant makes a 54-point game look mundane — easy almost. Yet, a part of me wonders what he's thinking as he watches SportsCenter, Fox Sports 1, and NBA TV replay 'Melo's 62-point game against Charlotte? Does he nod his head in respect and move on with his business?
I don't know the answer to that question, but I can't wait to find out.