(AP)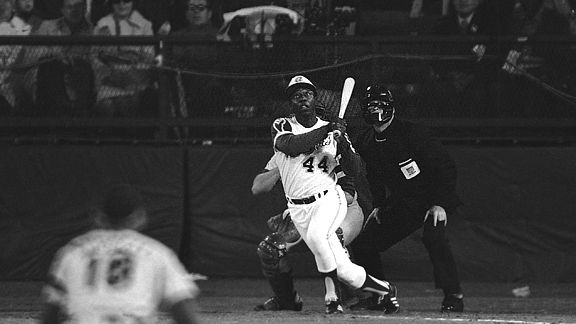 Forty years ago, Hank Aaron eclipsed Babe Ruth's hallowed mark of 714 home runs. Aaron's pursuit of history should have been an elixir for a nation sick with hatred, climaxing with the tumultuous 1960′s. Instead what America and baseball's greatest slugger encountered was a heart-wrenching reminder of even darker times.
Wedged between the undeniable mystique of Babe Ruth and the controversy surrounding Barry Bonds is the oft-omitted legend of Henry Louis Aaron. Amassing 755 career home runs merely grazes the surface of who Hank Aaron is. Few athletes in American sports have been placed in a more volatile pressure cooker than the one Aaron found himself in as the 1974 season approached.
At age 39, Aaron completed what would be his last season of 40 or more home runs — leaving him one shy of Ruth's once insurmountable 714. Aaron went through the coldest winter ever as death threats and hate mail peppered his mailbox. Aaron's incoming mail during the 1973 off-season was so frequent, a secretary was hired to open his correspondence from fans — to which he routinely responded. The hatred and racism thrown in Aaron's direction was so intense former Atlanta Journal sports editor Lewis Grizzard secretly composed an obituary for Aaron, whom he feared would not live to break the record. Not even Ruth's widow Claire Hodgson could call off the hate mongers — who felt Aaron's very pursuit of the record was spitting in the face of the game which among other things was not intended for Aaron or anyone who matched his physical characteristics.
Depending on who you ask, it took 137 or so home runs for Ruth to become baseball's home run king. A livelier sphere enhanced Ruth's ability to hit the long ball. Baseball's departure from the "Dead Ball Era" rendered base hits, steals and hit-and-run sequences a secondary strategy. The further Ruth's homers traveled, the greater his legend grew and deservedly so. The one looming shadow in the game was the exclusion of Black ball players in the Major Leagues, a rule Ruth had no control over.
Ruth's reign as home run king came without death threats or racist hate mail. Barry Bonds caught more hell for passing 714 than 755. Part is due to the swirling circumstances surrounding his alleged use of performance-enhancing drugs — more importantly because many still recognize Ruth's mark of 714 as the one and only home run record.
America was just six years removed from the assassinations of Dr. Martin Luther King Jr. and Bobby Kennedy, the war in Viet Nam was still one year away from its fruitless conclusion and the Watergate Scandal was reaching a historic climax. Baseball was in prime position to serve as a calming factor from racial and political tension. Aaron's home run chase was the most cruel of ironies as the man chasing history was in those same strides fleeing the ghosts of an irresponsible time in history. A time stained with white hoods, burning crosses, bull ropes, lynchings, maiming and murder. Aaron's concerns shifted from facing his opening day opposition to facing his own mortality. Those mired in the old way of thinking placed Ruth's record so high on the pecking order only bedding Jackie Onassis would have been a greater crime.
For more than a season Aaron lived and sometimes traveled separately from his teammates, endured questions, threats on his life, more questions and even more threats. As the 1974 season drew nigh, Aaron had only one thought…
It's time to end it.
Hank Aaron tied Ruth on his first swing of the 1974 season on a pitch from the Cincinnati Reds Jack Billingham. Braves management wanted Aaron to break the record at home pushed for him to sit out the Cincinnati series, but Commissioner Bowie Kuhn said Aaron needed to play at least two of the three games. Aaron and the Braves headed back to Atlanta for their home opener with Aaron one home run shy of the record.
On April 8, 1974 at 9:07 pm, Henry Louis Aaron took a 1-0 pitch from Los Angeles Dodgers pitcher Al Downing over the left centerfield wall of Fulton County Stadium in Atlanta, the record crowd of 53, 775 cheered wildly. As Aaron rounded second base, two college students ran along side him, temporarily startling him. One of those students was TNT analyst Craig Sager — who worked at a local television station. (After all the tension leading up to that moment, I always wondered why no one stepped in ). Baseball's new home run king was met at home plate by his teammates and his mother — who rushed from the stands in fear that her son would be shot, Aaron would later describe it as the tightest hug he ever received.
Hank Aaron was born in Mobile, Alabama, where his hands were hardened by picking cotton as a boy. Alabama is the same state which gave us Bear Bryant and Bull Connor, the Birmingham Bus Boycott, the march from Selma to Montgomery also known as "Bloody Sunday". He is one of the few living links between the Negro Leagues and baseball as we know it today. He began and ended his career with the Milwaukee Braves/Brewers, forging a lifelong friendship with Brewers owner and Commissioner Bud Selig.
He moved with the Braves to Atlanta after the 1965 season, home to Dr. Martin Luther King Jr. and Four Little Girls. Aaron hit his 715th home run against the Los Angeles Dodgers, the franchise who brought Jackie Robinson to the forefront of American sports.
We'll go to our graves with the debate of baseball's true home run king on our tongues. The one undeniable is Hank Aaron's life, his accomplishments and their significance in American history. Bonds nor Ruth can make such claims. To know the life of Hank Aaron is to know American history.
Take a knee.