(Sports Illustrated/CNN)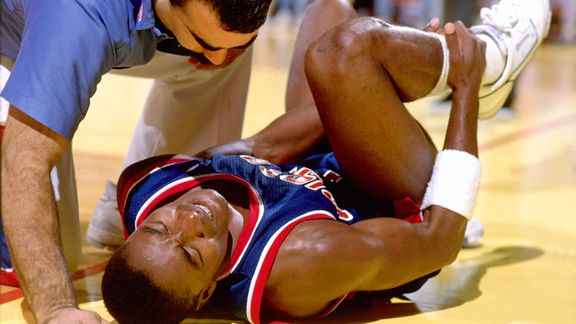 A severely sprained ankle revealed a competitiveness in Isaiah Thomas we had never seen. 
Every day of throughout the NBA Playoffs, TSF will highlight a game/series and an individual performance. Today we'll look back at Isaiah Thomas' awe-inspiring performance in Game 6 of the 1988 NBA Finals against the Los Angeles Lakers.
Lost in the mix of the Magic Johnson/Larry Bird rivalry and the emergence of Michael Jordan as the NBA's greatest individual talent is Detroit Pistons point guard Isaiah Thomas. In a nine year span in Thomas' career the NBA MVP was awarded to either Bird, Johnson or Jordan– even during the Pistons championship years. The lively debate over who was the game's best lead guard always came down to Johnson and Thomas, with Johnson winning most of those arguments due to his championship success.
In the 1988 NBA Finals, Thomas put aside his boyish smile and his friendship with Johnson, revealing a relentless hunger for basketball greatest prize.
In the third quarter of Game 6 of the NBA Finals with the Pistons holding a 3-2 series lead, Thomas rolled his ankle with less than five minutes remaining in the third quarter after making a pass to Joe Dumars. Thomas collapsed under the pain as he attempted to re-enter the play.
Thomas returned to the game in less than two minutes and embarked on one of the most heroic performances in NBA history. With a grotesque limp, Thomas closed out the quarter scoring 11 of Detroit's final 15 points on 11-of-13 shooting. His 25-point explosion was an NBA Finals record. More importantly, it gave the Pistons an 81-79 lead entering the fourth quarter.
Thomas would continue his assault as his goal of winning a world championship was well within reach. Thomas' 42nd and 43rd points came on a baseline jumper to give Detroit a 100-99 lead in a well-contested fourth quarter. The Lakers eventually closed out the Pistons scoring four of the game's last six points to escape with a 103-102 victory. Two night's later, the Lakers won their second consecutive title with a 108-105 victory. Leaving Thomas and the Pistons one year away from glory.
Thomas performance revealed an instinctive will to win — a dark side. Not in an evil sense, but an undeniable pressure to block out the intense pain, the crowd and those telling you not to risk it all for one game and do what comes naturally. It's called being in full survival mode. The man known as "Zeke" went through Jordan and Bird and now had his sights squarely set on winning the NBA title. If doing it meant literally breaking his foot off in the Lakers to achieve his boyhood dream, then so be it.