(Vavel.com)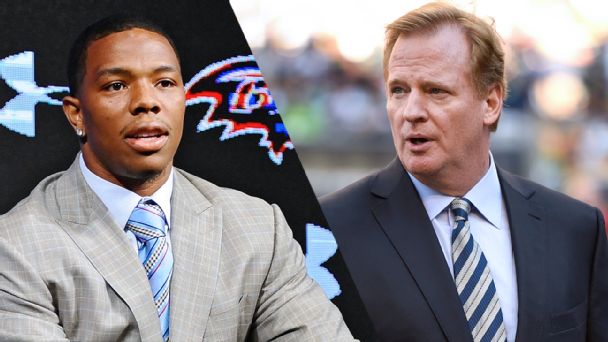 Ray Rice came clean to Roger Goodell about his actions, but the commissioner made it their own dirty little secret.
When Ray Rice stepped into an elevator with then fiancee Janay Palmer, little did he know his career was headed straight for the ground floor. Rice's actions to the woman he would marry six weeks later were deplorable and unacceptable.
Rice spoke to NFL Commissioner Roger Goodell in July and informed him of his actions that evening. Goodell responded with a two game suspension followed by a six-game ban. Rice was released by the Baltimore Ravens and banned indefinitely by the NFL after the complete video of the incident went viral.
After this latest turnover, it may be time to sit Roger Goodell on the bench.
On December 1, 2012 Kansas City Chiefs linebacker Jovan Belcher pumped 10 rounds into his girlfriend Kasandra Perkins, killing her. Before taking his own life, Belcher called his coaches to thank them for the opportunity to play in the NFL and issues these chilling last words
"You know that I've been having some major problems at home and with my girlfriend. I need help! I wasn't able to get enough help. I appreciate everything you all have done for me with trying to help … but it wasn't enough. I have hurt my girl already and I can't go back now."
Today, their daughter Zoe celebrated her second birthday.
The Belcher/Perkins tragedy should live in bold print inside the locker of every NFL player backed by the league's unwavering stance on domestic violence. Instead, Commissioner Roger Goodell and league officials have made up their own rules as they go along raising serious questions about his competence as commissioner.
The NFL places more emphasis on the protection of quarterbacks than the welfare of the wives and significant others of its players.
From July 24th through September 8th, Rice went from a two game suspension to an indefinite ban. Why? Because Goodell blew this from the beginning. Sitting a player for a month for smoking weed in comparison to a pair of games for knocking out his girlfriend sends a dangerous message to fans league wide — many of whom are young and impressionable.
For all of the anger and outrage directed at Ray Rice, to some he has become as sympathetic a figure as his spouse because of Goodell's neglect. The reason why Rice won't be playing for at least a season is because the Baltimore Ravens or the NFL never expected us to see anything that happened on the elevator that night.
The Ravens and NFL denied ever seeing the tape before a law enforcement officer told the Associated Press that he sent the video to the NFL five months ago. The league has hired former FBI Director Robert S. Mueller III to lead and investigation looking into the pursuit and handling of the Rice case.
If the investigation reveals anything to the contrary of what Goodell has said, he should be dealt with the same severity he has handled so many other cases.
We still await word on San Francisco 49ers defensive lineman Ray McDonald — who allegedly beat up his pregnant girlfriend two days after Goodell increased the penalty for domestic violence from six games for a first-time offense and a lifetime ban for the second. Carolina Panthers defensive end Greg Hardy is also playing despite being arrested for domestic battery in May. Neither the Niners or Panthers have benched either player. McDonald's former teammate Donte Whitener recalls Niners head coach Jim Harbaugh's stance on domestic violence:
"If you put your hand on a woman then you're done in his book."  Since then, Harbaugh has given no solid stance on the situation even as he addressed the media prior to last Sunday's game against the Cowboys. Why coaches and league officials are slow-walking this situation is beyond me.
Talk to Romeo Crennell about what it feels like to hear a man's last words.