(MaxPreps.com)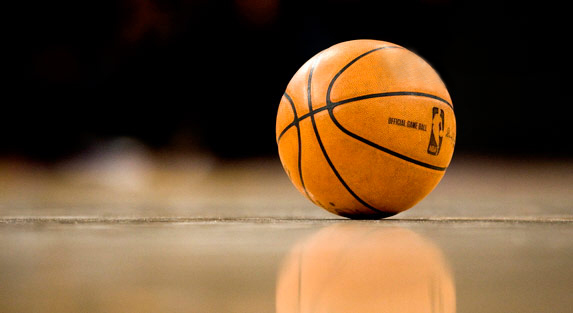 In elementary and middle school I had a dream of playing in the NBA one day. That's how I envisioned making a living once I got older. I played in various basketball leagues and attended a few basketball camps during my youth, thinking I was climbing the ladder towards pro-athlete status.
I wasn't.
Chances are I'm far from the only one who grew up with athletic aspirations only to later steer into the sports journalism lane. It's how we get close enough to that world to want to cover it.
Sports can be very captivating to kids. My first encounter with basketball was watching the 1998 NBA Finals as a five-year-old. Other than the Bulls beating the Jazz with Michael Jordan being the catalyst, I don't remember many specific details. But seeing the greatest player of all time make his grand finale (or so we thought) sparked my love for basketball.
A few months later I began experimenting in playing the game after my grandfather bought me a Fisher-Price basketball hoop for Christmas. As I got a little older I started playing in a pee wee-esque basketball league in D.C. called Capitol Hill Basketball.
At this point, I really had no idea what I was doing on the court. I cringe at how ridiculous I must have looked running up and down the hardwood hoping I wouldn't get hit with a rebound and hoisting up jump shots with bad form.
Despite not being quite NBA-ready at eight years old, I really didn't see myself doing anything else as a career at this stage.
It wasn't until I reached the seventh grade, however, that I discovered my identity as a basketball player. This discovery was possible for two reasons:
1. I became a die-hard NBA fan and could now effectively identify the playing styles of the league's stars and emulate them to the best of my ability.
2. I grew to almost six feet by the time I was 12, making me taller than most of my peers who I played pickup games with during recess.
The second reason allowed me to fully embrace being a big man. Whether it was grabbing rebounds in bulk, scoring points in the paint at the same clip or blocking a ton shots near the rim, I was a pretty dominant force. My jersey should hang over the playground of Stuart-Hobson Middle School, in all honesty.
Playing in the NBA felt like a real possibility now. I knew what I could do as a player and I was a perennial unofficial recess All-Star.
But, during this same time, my dad and uncle began to warn me about the slim chances I had at actually playing professionally. They talked to me about how there were thousands or even millions of other kids across the country and world who wanted to do the same and would obstruct my route to the league.
This was hard for my adolescent mind to understand, as all I had heard for years from those older than me was the rhetoric of being able to be whatever I wanted as long as I put my mind to it. All of a sudden, that wasn't exactly the case?
My dad and uncle just wanted to prepare me for the potential reality and make sure I didn't put all my eggs into the NBA basket. So I chose sports media as my back-up career. My new infatuation of ESPN's Pardon the Interruption was a large influence on that choice.
But I kept said choice a good distance away from my top career goal.
In ninth grade I enrolled in a suburban private school after roughly a decade of public schooling in the city. I played for the varsity team that year, but saw limited playing time as many freshmen do. Despite that, I thoroughly enjoyed the experience. Our team was a close group, I loved our coach and I learned a lot as a player.
Then 10th grade rolled around and I, much to my dismay, was unable to return to the same school. So back to public schooling I went, where I would continue playing basketball, right?
Eh, not so fast.
Having to leave my teammates back at my old school was heart-breaking. The idea of playing with a different group of guys in a completely different kind of environment wasn't at all what I wanted to think about. So I began to reconsider my future with basketball.
I started to glance into reality and while looking at it, I could see the words of my dad and uncle more clearly.
The truth was I didn't have the physical stamina. I didn't have a good enough handle or jump shot. I wasn't fast or strong enough. I hadn't grown a lot since the seventh grade, so I wasn't big enough to continue being a power forward or center. All of that would have been painfully exposed playing against public school, inner city competition. So I decided it was time to retire from organized basketball.
My days of playing on the asphalt in middle school gave me a mythical perception of what my ceiling was as a basketball player. Going up against a bunch of tweens who were adjusting to puberty was not an accurate simulation of competing against NBA caliber talents.
With the memory of basketball camp and my ninth grade basketball team in my head, I reached the conclusion that real basketball wasn't as fun as playing pickup games with friends during recess.
I was passionate about the NBA. I was passionate about the game of basketball. But I wasn't as passionate about playing it as I once thought.
I still knew that basketball needed to be in my life in some way, though. So I began to fully tap into my "back-up" career plan. In the 10th grade I read a book called The Sixth Man by former ESPN writer Chris Palmer, where he beautifully conveyed his life as a sports media member covering the NBA. I was 100% sold on being a sportswriter after that and I never looked back.
And I'm lucky for that. A lot of people have no idea what they want to do with their life when the harsh truth of athletic mortality ambushes them. Not being good enough to make a living as a jock isn't the end of the world, but what we decide to do after discovering that is what defines us. It's hard to find the next path for many, but I slid smoothly right into journalism. I guess I have my dad and uncle to thank for that.
Being a professional athlete is a weird occupation. It's one of the few career choices where you can't just wake up one day and decide you want to do it. More often than not, God has to bless you with the gifts to be major-league material. You have to be born with the right physical determination, body type and body control to turn your backyard dreams into fruition.
It's not fair that so many kids across the world can't successfully pursue the line of work that captures their eye in such a major way. It's a lifestyle where you make millions of dollars and gain stardom by just playing a game. It's torture to see it so heavily on display and realize you can't be a part of it.
It's even more torturous to see athletes take it for granted and risk losing it all. Guys like Ray Rice and Adrian Peterson have no business doing stupid stuff that could potentially put their careers in jeopardy. So many people would trade places with them in a heartbeat. They're in the minority of people who dreamed of playing professionally as kids and made it. But yet, they treat their position as if they aren't blessed to be in it.
I don't regret trading dribbling for typing one bit. I occasionally ponder and smile at the alternate universe where a jersey with my last name on the back is my business attire, but I'm happy living in this universe.
I first picked up a basketball as a six-year-old so I could one day become a sportswriter, not an NBA player.
Playing basketball helped increase my love for the game. It helped give me perspective as a journalist. I can more effectively put myself in the shoes of the players I write about because of it.
But maybe I'm wrong, though. Maybe I gave up playing too early and didn't actually reach my peak at 14 like I thought. Maybe playing in the league really was my destiny. Maybe I could be getting ready for training camp in two weeks now instead sitting here writing all this.
If that's the case, however, I can sleep fine at night knowing that I passed up what was once my dream. My reality isn't that bad.