(Melina Vastola/USA Today)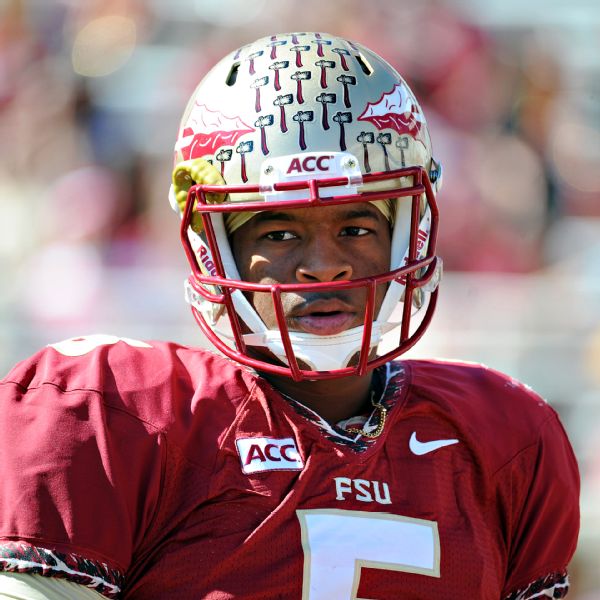 Since winning the National Championship, Florida State's Jameis Winston can't get out of his own way.
In 2013, Florida State University quarterback Jameis Winston pulled off an improbable trifecta by becoming one of 14 players to win the Heisman Trophy and follow it up with a National Championship. Most shocking was the 20-year old beating a sexual assault rap in the midst of the Seminoles BCS championship run.
While no defense in the country has found an answer for the multi-faceted quarterback, Winston has become his own worst enemy and needs to take a good hard look at himself before it's too late.
Remember when Johnny Manziel won the Heisman Trophy in 2012 and the negative talk about awarding a freshman such a prestigious honor because the exposure could potentially do more harm than good?
If Manziel's scandalous sophomore season was any indication of age and maturity being a deterrent to the awarding committee, Jameis Winston's actions since winning the award have confirmed it.
During a time when the NFL is dominating the news for all the wrong reasons, one of the potential faces of the future has picked the wrong time to act a fool. Since January, Winston has been busted for stealing crab legs — which ended in a slap on the wrist and now will sit out the first half of Saturday's game against Clemson for shouting a sexual obscenity in the school's student center.
Winston's statement was so vulgar, it could and will more than likely be interpreted as him thumbing his the nose at Florida State authorities who saw no wrongdoing in the sexual allegations scandal and undoubtedly a slap in the face to his accuser.
 Nov. 25, 2012: A few hours after the incident on the bike path, Winston, Casher and two other Florida State players, Mario Edwards and Kenneth "P.J." Williams, allegedly engage in a BB- and pellet-gun battle at their apartment house, inflicting an estimated $4,000 in damage. Management at the apartment house declines to press criminal charges after an FSU athletic official vows that the players will pay for the damage.
Dec. 7, 2012: Winston is accused of raping a woman at his off-campus apartment. The woman reports the assault to police that day and five weeks later calls a detective and identifies Winston as her attacker after seeing him in a class. Tallahassee police drop the investigation, contending the woman has refused to cooperate, then revive it nine months later and sent it to State Attorney Willie Meggs. Meggs conducts a new investigation but concludes that there is not enough evidence to file criminal charges. Winston's lawyer contends the sexual encounter was consensual.  The U.S. Department of Education later launches a federal investigation of the school's handling of the incident after questions arise about whether Florida State followed the provisions of Title IX, and in August 2014 the school launches an investigation of Winston under the student code of conduct.
July 21, 2013: Winston is accused of entering a Burger King in Tallahassee and helping himself to soda from the fountain machine without paying for it. A restaurant employee later tells police she gave Winston a cup of water but that he poured the water out and helped himself to several cups of soda despite her objections. No charges are filed.
April 29, 2014: Winston is accused of stealing $32.72 worth of crab legs from a Tallahassee supermarket. He is given a civil citation that allows him to perform community service and is suspended from the FSU baseball team until he completes that work. Winston tells police he "forgot" to pay for the crab legs and publicly apologizes.
May 20, 2014: Winston is expected at a code-of-conduct hearing for Chris Casher and Ronald Darby, two FSU teammates who alleged the witnessed a portion of the sexual encounter involving the quarterback and the woman who accused him of rape. They are both accused of violating school rules. Winston does not show up for the hearing, and his lawyer contends that no one from the school ever asked him to be there – something that is disputed by attorneys involved in the process. However, FSU officials later acknowledge that they have no way to force a witness to attend a code-of-conduct hearing.
Sept. 16, 2014: Winston is seen by several students jumping up on a table on campus and screaming a sexually charged expletive-laced phrase that was made popular on the internet. FSU head football coach Jimbo Fisher suspends Winston for the first half of the team's upcoming game with Clemson, and school officials vow that he will be subject to "internal discipline" – most likely under the school's code of conduct. Winston apologizes.
Six incidents in less than two years is a red flag for school officials as well as NFL scouts who have had Winston high on their boards since last season. If you scratch the Burger King and crab leg incidents there are still serious character issues to be addressed. Florida State is not exempt in this because of the speed with which the sexual assault allegations were handled. The eye test screams of cover up just for the Seminoles to have a shot at the National Championship — which worked out for the school and Winston.
What is sitting him a half against Clemson going to do?
Days before Winston's latest outburst, Florida State officials were asked to investigate the rape allegations from 2012 which did not bring charges against Winston due to lack of evidence. I don't know if Winston is aware of it or not, but he is far from being cleared on this and this latest outburst and its content doesn't help him at all.
Florida State University is slowly separating itself from Jameis Winston.
That's what troubles me. Is Winston totally oblivious or does he feel a certain sense of privilege because of who he has become? Both are troubling mindsets.
Winston has already blown the Heisman Trophy and proven to the majority he is not mentally ready for the next level. The sophomoric pranks with veiled apologies may play over at FSU, but those acts don't fly in the National Football League.
My personal note to Jameis Winston: My man, you're an out of this world talent, but your actions in the face of what you were blessed to avoid thus far are repulsive. I've been a Noles fan since I was thirteen, so I appreciate what you've done on the field. Jameis, look at the new faces of domestic violence and child abuse, not just in sports, but in society. They're African-American men, young African-American men who are at the height of their profession and are making dramatic falls from grace. You are a part of a select fraternity, one of two men to win the Heisman Trophy as a freshman, but your off the field antics now overshadow your on the field heroics. No one is talking about your great performance against Oklahoma State a few weeks ago, they're talking about your impending demise because obviously the Heisman Trophy hasn't brought you enough attention. Prepare to be the most scrutinized rookie in NFL history, more than Johnny Manziel more than Cam Newton. Your character will be questioned by everyone on all sides until you prove different. The NFL will do everything to restore its image with or without you, but you have time to get it right. I support you overall, but you've got to go naked bootleg on this one. The climate of sports and society have shifted and at this point the NFL and its fans will take ten Michael Sams over one Jameis Winston.
I can't really say that I blame them.