(ABC.13.com)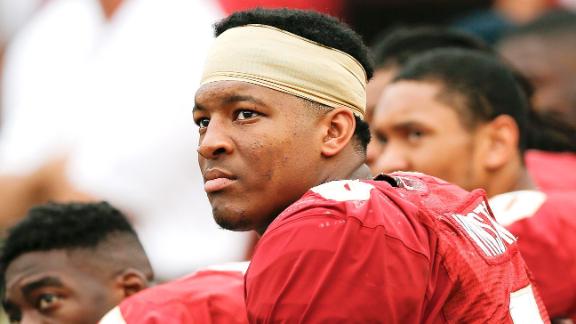 Jameis Winston will be a spectator for the Florida State Seminoles meeting against the Clemson Tigers.
In a not so surprising development, the Florida State Seminoles have decided to sit Heisman Trophy winning quarterback Jameis Winston for today's game against the Clemson Tigers.
Florida State has placed it's No. 1 ranking and hopes of a repeat as National Champion squarely on the shoulders of redshirt sophomore quarterback Sean Maguire.
For one week only.
It's safe to say Winston's suspension was a result of questionable behavior since he led the Seminoles to the National Championship as a freshman last January, culminating with a vulgar outburst in the student center earlier this week. Following the most recent trend of the NFL, Winston was first suspended for the first half of the game before school officials decided on sitting the talented sophomore for the entire game.
Sean Maguire will walk away a martyr if the Seminoles are upset by the Tigers at Doak Campbell Stadium. Winston, on the other hand could face vilification the likes of which we've never seen directed at a student athlete.