(Mike Roener/AP)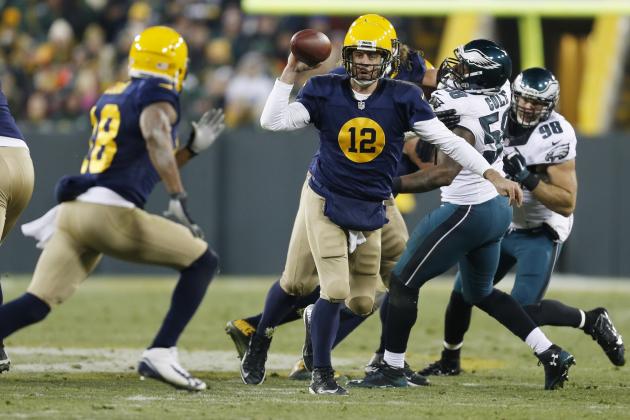 Aaron Rodgers has the same number of rings as Peyton Manning, but is rarely mentioned among the NFL's best.
Two weeks ago, Green Bay Packers quarterback Aaron Rodgers hacked up a depleted Chicago Bears secondary to the tune of six first half touchdowns in a 55-14 stomping of their division rivals.
Last week, the 2011 NFL MVP systematically broke down an improved Philadelphia Eagles pass rush, passing for three more scores in a 53-20 romp. I think it's about time we start mentioning Rodgers among the NFL's best signal callers.
Byes: Panthers and Steelers
Thursday Nov. 20
Passing Leader
Rushing Leader
Receptions Leader
Oakland 24, Kansas City 20
Smith 234 
Murray 112 
Kelce 67 
Sunday Nov. 23

Time (ET)

TV
The Skinny Post 
After Further Review
NY Jets at Buffalo
1:00 PM
Postponed
Postponed
Cleveland at Atlanta
1:00 PM
CBS
The Falcons are leading the division no one wants to win. Josh Gordon returns for the Browns.
Browns 27 – Falcons 14
Tennessee at Philadelphia
1:00 PM
CBS
The Eagles can't look ahead to the Cowboys after the scare the Titans gave the Steelers.
Eagles 31 – Titans 23
Detroit at New England
1:00 PM
FOX
This game should tell us all we need to know about both teams.
Patriots 30 – Lions 28
Green Bay at Minnesota
1:00 PM
FOX
I don't even want to think about what Aaron Rodgers is capable of doing here.
Packers 33 – Vikings 16
Jacksonville at Indianapolis
1:00 PM
CBS
Someone has to pay for that beat down the Colts took last week.
Colts 29 – Jaguars 13
Cincinnati at Houston
1:00 PM
CBS
J.J. Watt rushes for a touchdown this week. No, seriously!
Bengals 28 – Texans 23
Tampa Bay at Chicago
1:00 PM
FOX
The Bears are on the outside looking in and it's gettin' cold outside.
Bears 33 – Buccaneers 17
Arizona at Seattle
4:05 PM
FOX
A tell-all game for Drew Stanton and the Cardinals.
Seahawks 23 – Cardinals 21
St. Louis at San Diego
4:05 PM
FOX
The Bolts have Ryan Matthews back just in time for the stretch run.
Chargers 30 – Rams 16
Miami at Denver
4:25 PM
CBS
I believe the Dolphins can go toe-to-toe with the Broncos.
Dolphins 27 – Broncos 23
Washington at San Francisco
4:25 PM
CBS
The Niners can't afford a letdown against a DC team on the brink of disaster.
49ers 31 – DC 16
Dallas at NY Giants
8:30 PM
NBC
The Cowboys will have two physically and emotionally taxing games in a four-day span.
Cowboys 24 – Giants 20

Monday Nov. 24

Time (ET)
TV
The Skinny Post
After Further Review
NY Jets at Buffalo
7:00 PM
CBS
It's almost December and the Bills are still alive.
Bills 24 – Jets 10
Baltimore at New Orleans
8:30 PM
ESPN
The Saints have to get it together at some point. Don't they?
Saints 24 – Ravens 21