(L.G. Patterson/AP)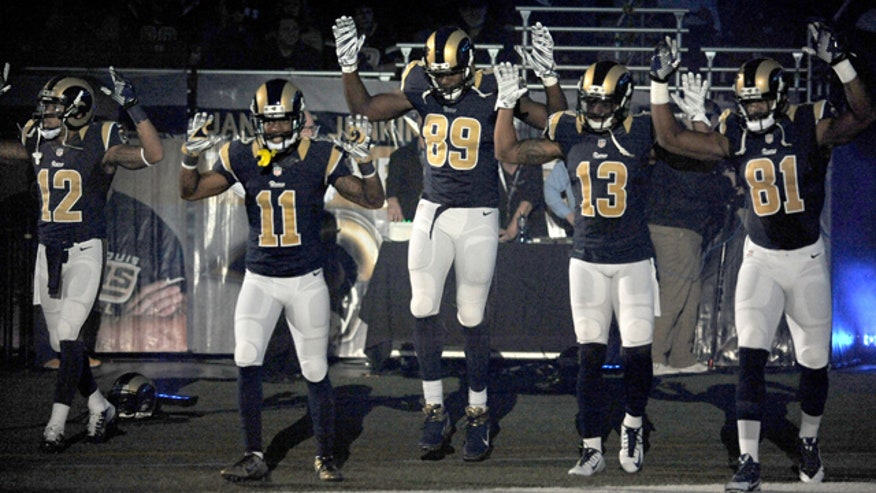 St. Louis Rams Tavon Austin, Kenny Britt, Jared Cook, Stedman Bailey and Chris Givens make a powerful statement during pregame introductions yesterday. 
Prior to the St. Louis Rams destruction of the Oakland Raiders in the Edward Jones Dome, five members of the Rams receiving corps emerged from the tunnel with their hands raised in silent protest to the unrest in Ferguson, Missouri after the murder of Mike Brown and the non-indictment of former police officer Darren Wilson.
The Rams went on to crush the Raiders 52-0.
Seven months ago, the St. Louis Rams were commended for taking a stand for LGBT rights when they drafted former SEC Co-Defensive Player of the Year Michael Sam — who prior to the draft declared he was gay.
Today, the organization and/or the NFL is being asked by St. Louis law enforcement to discipline five players for protesting the results of the grand jury decision in Ferguson, Missouri which allowed former police officer Darren Wilson to walk away a millionaire for the murder of unarmed Black teen Michael Brown.
Who said crime doesn't pay?
Disciplinary action by the NFL or the Rams sends a clear message to African-American players and fans. NFL commissioner Roger Goodell known for his sometimes over-the-top reactions to player conduct would be called on the carpet for any kind of action against these players — especially in light of conflicting findings during the Ray Rice scandal.
The hands-up gesture is a sign of submission, surrender — ultimately absolving oneself of any malicious intent. No matter what happened before Mike Brown had up to eighth bullets pumped into him, his last act was raising his arms to show he was unwilling and ill-equipped to duel with an armed officer.
We know how it ended.
Tavon Austin, Kenny Britt, Jared Cook, Stedman Bailey and Chris Givens protested as a result of the outcome and final ruling by a Grand Jury that Darren Wilson acted within the law.
Many times we ask for actions or comments from athletes in times like these, it seems like their opinion is only valued when it's on an issue that touches "America as a whole" or better yet, the white populace more directly. Anything other than that and you'll begin to hear how political and social issues have no place in sports.
PETA can protest and be paid by the NFL for Michael Vick's dog fighting ring. The LGBT gained a face in Michael Sam, but were more than ready to take on NFL for possible discrimination if had he not been selected. When Ray Rice is back on an NFL roster, there will be domestic violence groups protesting whether Rice plays at home or on the road.
Each group is well within its rights to protest.
The NFL is 68 percent African-American. Many of these men come from the similar African-American neighborhoods as Michael Brown, faced similar situations as Michael Brown and have lived to tell it. All of them — whether they want to accept it or not — are Michael Brown.
Roger Goodell is in a stare down with five men standing proxy for Michael Brown. Will he relinquish some power or strike with excessive force?