(Chris Szagola/AP)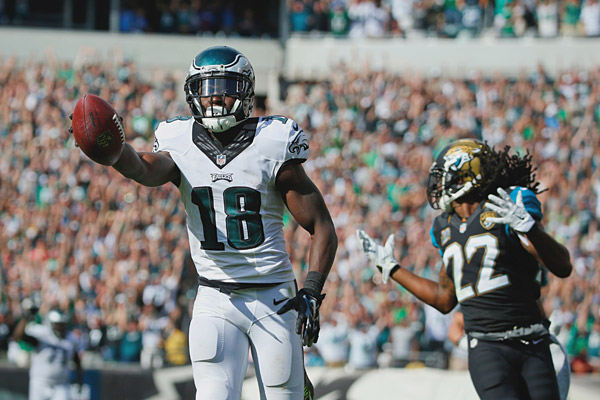 The play of Jeremy Maclin has left secondaries baffled in what is becoming a Pro Bowl season.
In five seasons with the Philadelphia Eagles, wide receiver Jeremy Maclin has played with his share of Pro Bowl talent. Donovan McNabb, Michael Vick, Brian Westbrook,  Jason Peters and DeSean Jackson are just a few who come to mind. Maclin's numbers have been decent, but injuries and the looming shadow of Jackson prevented fans from seeing the full complement of his talents.
With Jackson now catching passes in DC and a clean bill of health, Maclin has exploded out of his shell and into the national spotlight. The former Missouri wide receiver/return man is a front-runner for NFL comeback Player of the Year, his first Pro Bowl appearance and a top target heading into free agency this off-season.
Jeremy Maclin has made a believer out of me.
While his talent has never been in question, his durability was a concern. It was a running joke between myself and colleague Michael Tillery to needle Maclin when he was slow to get up from a play. It seemed to happen two, three times a game. Maclin would make a catch, take a lick, lay on the field for a few moments before making it to his feet.
Maclin always got up.
The 19th overall pick in the 2009 NFL Draft, Maclin was placed opposite the mercurial DeSean Jackson to form one of the NFL's best young wide receiver tandems. Where Jackson took the top off of opposing defenses, Maclin did his share of loosening the jar.
During training camp in 2011, Maclin's toughness would be put to the test.
After experiencing an alarming loss in weight and unusual weakness. It was feared that Maclin could have lymphoma. Thankfully, tests revealed an inflammatory virus — which showed similar symptoms. Maclin fully recovered and finished second on the team in receptions and yards (97/859), but led all receivers in touchdowns with five.
The 2012 season was a breakout year — with DeSean Jackson playing only eleven games  — Maclin led the team in receptions, touchdowns and yardage. The Eagles overall outlook wasn't as bright as the death of Andy Reid's son Garrett during training camp overshadowed a 4-12 campaign. Owner Jeff Lurie pulled the curtain on Reid's tenure after 14 seasons along with other wholesale changes, including the hiring of current head coach Chip Kelly.
The 2013 season never got off the ground as Maclin suffered a torn ACL in training camp. The Eagles new-look offense did not disappoint under Kelly as several players flourished in Maclin's absence. DeSean Jackson had a career year as the speed and big play potential of Kelly's offense played to the strengths of the Bird's young offensive talent. Quarterback Nick Foles, running back LeSean McCoy, offensive lineman Jason Peters and Evan Mathis along with Jackson made the NFC Pro Bowl squad. There were other contributors who also had breakout seasons in Kelly's up-temp system.
Most notably Riley Cooper.
Cooper made headlines in 2013 for his racial comments at a Kenny Chesney concert after a confrontation with a security guard who was Africa-American. Cooper's comments sent shock waves throughout the team and the league. While fans called for Cooper to be released, the Eagles were in an impasse with Maclin out for the season. Cooper remained with the team and finished the season with 47 receptions for 835 yards and 8 touchdowns. While cheering for Cooper may have been difficult for some fans, the Eagles front office was convinced Cooper was tailor-made for Kelly's system and rewarded the fifth year receiver with a five-year extension worth $22 million, including $8 million guaranteed.
Even more shocking was the unconditional release of Jackson a month later. Circumstances surrounding the release stemmed from possible gang affiliation by Jackson to it simply being termed as a "football decision". The decision left a bad taste in the mouths of African-American fans, who felt the team showed more allegiance to a racist with marginal skills at best over a proven talent who at his worst was a loudmouth. It should be noted that there is no record of Jackson having any gang affiliation.
Maclin returned to training camp this season in he final year of his contract. If there was any pressure on Maclin being in a contract season combined with returning from a career-threatening injury we haven't seen it. Through 14 games, Maclin has 76 receptions for 1,207 yards and 10 touchdowns. With Jackson gone, we have seen a different gear in Maclin's game, he can go deep with the best of them and still make the tough grabs in traffic.
As for Cooper and Jackson, things have not worked out as well as both have had disappointing seasons on the heels of signing lucrative deals. Jackson has struggled in DC despite playing opposite Pierre Garcon — who came in via free agency and is having a tough year as well. Cooper can't seem to catch anything — tallying half as many yards as last season —  and has been surpassed by rookie Jordan Matthews.
Maclin rolled the dice on this season and won bigger than any of us could've imagined. No one's laughing any more.
Especially me.