(Philly.com)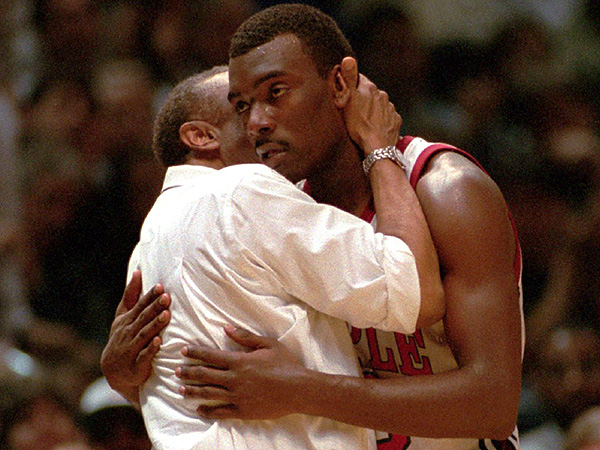 Make no mistake, former Temple star Aaron McKie is one of John Chaney's most beloved players.
Aaron McKie is a Philadelphia basketball legend at the high school, collegiate and professional level. A bona-fide student of the game, McKie learned at the knees of Bill Ellerbee, former head coach of national powerhouse Simon Gratz high school and one of the NCAA greats in head coach John Chaney. As a professional, McKie was bounced around until landing back home in Philadelphia where he blossomed into one of the NBA's best sixth men. Under head coach Larry Brown McKie won the NBA's Sixth Man of the Year Award in a magical 2001 season for the 76ers.
After a stint with the 76ers as an assistant, McKie has returned to his Temple roots as an assistant under Fran Dunphy, another Philly coaching legend. Here is our brief conversation after the Owls upset the then 10th ranked Kansas Jayhawks on December 22nd.
Minutes after the Temple Owls defeated the No. 10 ranked Kansas Jayhawks 77-52 for their sixth win over a top 10 team in the last 7 seasons, I ran into Aaron McKie in the tunnel of a still buzzing Wells Fargo Center.
RG: Twenty-one years ago you, Eddie Jones and coach John Chaney knocked off a No. 3 ranked Jayhawks squad and tonight you're on the sidelines for another landmark victory over Kansas. (Two years later Temple would defeat No. 1 ranked Kansas 74-66)
AM: Oh yeah, I definitely remember that.
AM: This is great and what's most impressive is our guys worked at it, they were focused and really wanted to come out here and put on a good showing. This was a good win to go into the holiday season with. With the fans and students enjoying it, it was great all around.
RG: I was at Knoxville College cheering you guys on heavy that night. (against Kansas).
AM: At the time, they (Kansas) had 60-game no-conference winning streak at Allen Fieldhouse.
RG: You're back at Temple now, bringing your career full circle, can you speak on that?
AM: It's like a dream when you get the opportunity to play here as a collegiate, professionally, coach here professionally and now coaching on the collegiate level. I can definitely say I'm blessed from that standpoint.
RG: Many of today's younger players know you and recognize you from your playing days. Do you think that kind of familiarity gives you an upper hand in the recruiting process?
AM: (Laughs) Ask me that question in about 4-5 years. Seriously, you never now. A lot of kids who are Philadelphia kids want to get outside (of the city). We're trying to keep a lot of these kids here, not just to restore the Temple tradition, but that of the Big Five as well.
RG: Well, you're a jewel in this city, I just wanted you to know that we appreciate you here in any capacity.
AM: Thanks.
No one knows when Aaron McKie will get the call to become a head coach. I'm sure he will impact the lives of many young men. Don't believe me, ask Allen Iverson.