Two teams want it. Only one can have it.
This is the match-up we all wanted. The Golden State Warriors, a 67-win juggernaut are led by the reigning MVP Steph Curry and loaded with talent pretty much up and down the roster will go against LeBron James and the Cleveland Cavaliers — who are built in the image, and to the exact specifications, of their star. But that's just the surface story. For a match-up as good, and as fun, as this is going to be going a bit deeper is necessary. In order to do that, we have to get past our preconceived notions of what we think we know. Here are three things that I think I know about the NBA finals.
1: It is truly possible that, for casual basketball fans, the Warriors are underrated.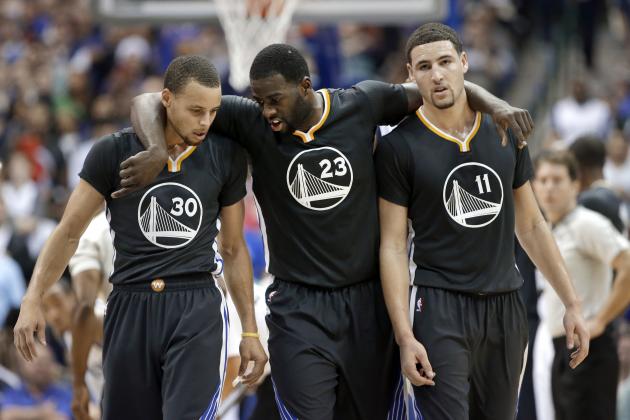 Photo Credit: Tony Gutierrez\Associated Press.
Simply the best?
When I say this, I'm not talking to those of you reading this who are intricately aware of basketball. You know how good the Warriors have been all year long.
Rather, I'm talking to the basketball fans who watch highlights and highlights only.
You see, the Warriors are one of the best teams heading into the Finals in recent memory. #1 in defense, #2 in offense. (The Clippers surpassed the Warriors to take #1 in that category near the end of the season.)
And yet, when you think of them, do you think of them taking the best of what the Spurs and Hawks do and mixing with two of the best shooters in the league? No. You think of them being a jump shooter's team with Stephen Curry and Klay Thompson.
Do you think of them as being a top-shelf defensive team? Because they are. Andrew Bogut is underrated as a rim protector, and Draymond Green is the literal definition of a swiss-army knife as a defender. Hell, Klay Thompson is really good as a defender and even Steph Curry is serviceable.
I blame some of this on Charles Barkley and the rest of the old-school basketball media, who have stood on the side of the road yelling "STOP" as a basketball revolution has passed them by. But largely, I place the blame on preconceived notions. If this was the Lakers doing this, we'd be helming it as the full-scale understanding of basketball that this currently is.
We still want to believe in the idea of the 'star system', the idea that two superstars at the peak of their powers will overwhelm a team like Golden State.
That leads me seamlessly to point No. 2.
2: There is no way in the world the Cavs beat the Warriors without a fully powered Kyrie Irving, and even that might not be enough to get the job done?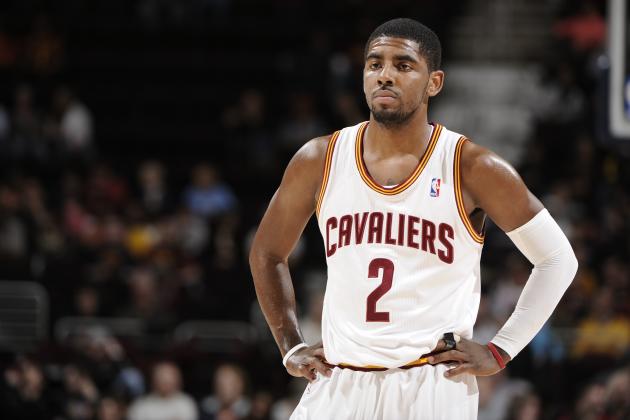 Photo Credit: David Liam Kyle\Getty Images
Kyrie has to be at full strength.
To be fair, first, everything about this is contingent on his knee injury. I do not want to be the sort of person who rips shreds off of a guy when he's hurt. It's reductive, and highly unnecessary to do it.
But if the Cavs are going to beat the Warriors, and pull off the upset in the process, Kyrie needs to be ready.
We need to see THIS Kyrie.
Because if we see the struggling to move around Kyrie, the guy who can't get to the rim Kyrie, things will be different.
Kevin Love's not here to hang double-doubles all over the place. And if you seriously believe J.R. Smith won't self-immolate at some point during this series and cost his team a game, I have a wonderful section of The George V. Voinovich Bridges that I will be able to sell you.
So for the Cavs to do this, they need Kyrie to re-ascend to his peak. They need him to be that nightly-unguardable force that made so many compare him to peak Kevin Johnson.
Unfortunately, while KJ had many great moments, his one trip to the NBA's grandest stage culminated with him absolutely falling apart in the 1st 2 games of the series. If Cleveland wants to win this title, they have to hope the Kevin Johnson\Kyrie Irving parallels don't also mean stunningly wetting the bed on the greatest stage that he will be in.
Because if he does, this next thing is going to happen and the entire city of Cleveland will be heartbroken.
3: The Warriors will be your next NBA Champions.
For The Bay Area?
Let's be clear. It's a great story that LeBron has drug the Cavs
here, just like he did in their most recent trip to the finals when they walked into a buzzsaw in San Antonio. He will not be seeing that same experience here, if for no other reason than because Steve Kerr and Stephen Curry do not have nearly the same level of championship experience that Duncan and Popovich did.
However, to be fair, this isn't going to be like when LeBron faced Durant and the kids in Oklahoma City. I've heard that narrative floated quite a few times, and it bothers me quite a lot.
The reason for that is very simple: The LeBron who strode into that NBA Finals was at the peak of his considerable powers, and did everything short of disassemble his competition on the way to the Finals. He also was playing FAR better than the LeBron of these playoffs is playing now.
Also, he had a much more robust supporting cast back then than he does now. We don't have the corpses of Mike Miller and Shawn Marion walking around back in those series. Kyrie Irving, even when healthy, isn't Dwyane Wade circa 2011. He's just not.
But for all of you who think I'm wrong, or a heretic for refusing to blindly worship at the feet of the King, let me ask you one question: Are these Cavs equal, defensively, to those Heat? No. Of course not.
Are these Warriors running the same type of "Give it to our stars and get out of the way" offense the Thunder ran? No.
So this is a great run, but the Cavs aren't ready for this level.
Warriors in 6.
5 is not an impossibility.
Thank you for reading. Enjoy the Finals.