(AP Images)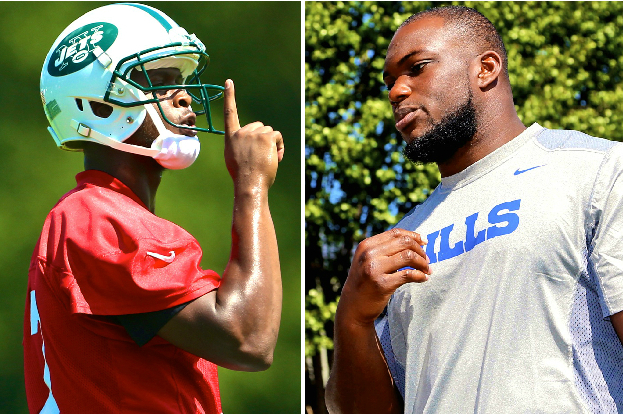 Former NY Jets linebacker Ik Enemkpali caught a break by signing with the Buffalo Bills one day after wiring Geno Smith's jaw.
Last week's locker room dust-up between New York Jets quarterback Geno Smith and former teammate turned Buffalo Bill Ik Enemkpali gave us everything the on-field scuffle between Carolina Panthers Cam Newton and Josh Norman did not.
A $600 beef has detoured Smith's attempts to take the reins as the team's leader in his third season — while Enemkpali hopes to make the Bills 53-man roster amid heavy scrutiny.
It didn't take long for the white-hot New York lights to be placed on new Jets head coach Todd Bowles.
Geno Smith and Ik Enemkpali came into this year's training camp from two different roads with one destination in mind. Smith, entering his third season as the Jets quarterback, was looking to finally to cement himself as the permanent starter under new head coach Todd Bowles. After being selected in the 6th round (210 overall) by the Jets in last year's draft, Enemkpali was hopeful to move up on he team's depth chart after appearing in only six games his rookie season.
After failing to verbally settle a $600 dispute, Smith is out for 6-10 weeks with a broken jaw, possibly losing his starting job to Ryan Fitzpatrick, while Enemkpali has to convince his new coaching staff in Buffalo the incident with Smith was an isolated event.
It doesn't really matter who or what story you believe, the NFL futures of Enemkpali and Smith have suddenly become unclear.
After his release from the Jets and eventual signing with the division rival Bills, stories began to surface supporting Enemkpali's case. ESPN NFL analyst Ryan Clark reported Enemkpali put up $600 for Smith's airfare and limousine service to make an appearance (Smith was unable to attend due to the death of a friend). Enemkpali initially confronted Smith about the money at the opening of camp. After a heated exchange, Enemkpali and Smith had to be separated. Last week, Enemkpali approached Smith again about the money at which point Smith became smug, and told Enemkpali that he was not going to pay him, put his finger in his face and told him, "He wasn't going to do anything about it." Enemkpali responded by punching Smith in the face.
Newly acquired Jets wide receiver Brandon Marshall — who roomed with Smith this off-season — gave his personal account of the confrontation which countered Clark's report. Marshall indicated that Smith did not put his finger in Enemkpali's face and "didn't do anything wrong that day."
The most sensible response came from Pro Bowl cornerback Darrelle Revis, who said he holds both players responsible.
There's more testosterone in NFL locker rooms than any place on earth; it is as the cliche' says, "the last bastion of manhood." So it should come as no surprise there was an altercation over money especially if Smith acted as reported towards Enemkpali. Whether you're living on an NFL salary or not, no man is going to be told (twice) in front of his peers that he's out of $600 and he can't do anything about it. Turning your nose up at a $600 debt to the wrong guy on the streets will get you boxed quicker than a three-piece meal. Maybe cooler heads should've prevailed, but this is the NFL where respect in the locker room runs deeper than any on-the-field production. If you don't stand up for yourself in the locker room how can you be expected to have your teammates back on the field?
Two things stick out like a sore thumb here.
How come no offensive lineman let alone teammate came to Smith's aid? Throw his numbers and performances out the window, and Smith is looked upon as the franchise QB. Do you think this happens in New Orleans, New England, Seattle or even Chicago? I didn't think so. For this story not to contain the names D'Brickashaw Ferguson or Nick Mangold speaks volumes.
When Rex Ryan snatched up Enemkpali less than 24 hours after the incident, he was basically telling his former employers they cut the wrong player. Ryan will make a spot on the Bills roster for Enemkpali unless his completely bottoms out in the preseason. Even with this second chance, Enemkpali is on the NFL radar of players to watch for all the wrong reasons. The rules for NFL quarterbacks in red jerseys extends far beyond the playing field.
All hope isn't lost for Smith as he hopes to return to the Jets as no less than a backup. I don't see Todd Bowles putting Smith in a position where he has to worry about falling completely out of the quarterback picture. The one thing Bowles has no control over is the play of starter Ryan Fitzpatrick — who played well for the Houston Texans last season.
While he heals, the biggest victory Geno Smith can earn must be in the Jets the locker room, regardless of the scars.