Posted in
Blogroll
on November 9th, 2015 by Ron Glover
(Columbia Missourian)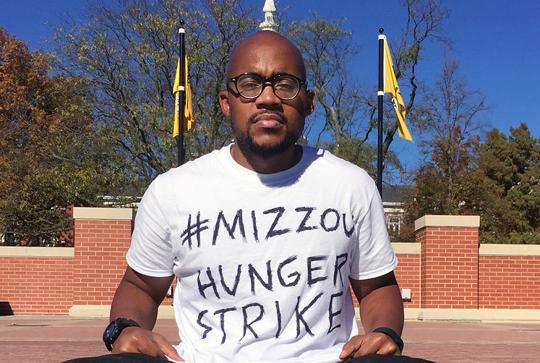 University of Missouri student Jonathan Butler's hunger strike brought the school's racial tension to the forefront.
Fueled by the shooting death of Mike Brown, the University of Missouri Black Student body grew weary of their complaints of racism falling on reluctant responses and deaf ears. Graduate student and member of the Concerned Student 150 (named for the first year Black students were permitted on campus) Jonathan Butler grew so tired of the empty promises and emails that he began a hunger strike on November 2nd which was backed by students and professors.
Despite meeting with Butler and the Concerned Student 150, Wolfe remained firm in his stance to stay on as university president.
This past Saturday, the University of Missouri football team — which has about 32 Black players vowed to suspend all team activities until Wolfe resigned.
Wolfe resigned his position a few hours ago.