(Columbia Missourian)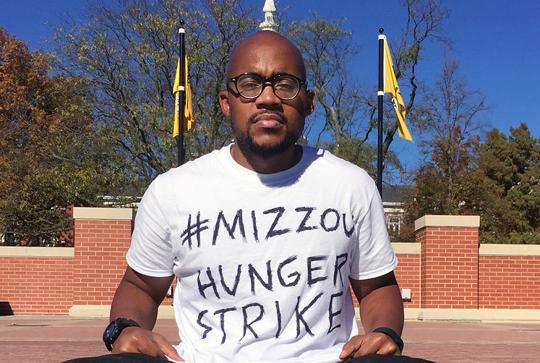 University of Missouri student Jonathan Butler's hunger strike brought the school's racial tension to the forefront.
Fueled by the shooting death of Mike Brown, the University of Missouri Black Student body grew weary of their complaints of racism falling on reluctant responses and deaf ears. Graduate student and member of the Concerned Student 150 (named for the first year Black students were permitted on campus) Jonathan Butler grew so tired of the empty promises and emails that he began a hunger strike on November 2nd which was backed by students and professors.
Despite meeting with Butler and the Concerned Student 150, Wolfe remained firm in his stance to stay on as university president.
This past Saturday, the University of Missouri football team — which has about 32 Black players vowed to suspend all team activities until Wolfe resigned.
Wolfe resigned his position a few hours ago.
The youth shall be the true revolutionaries.
My first thought upon hearing the resignation of former University of Missouri president Tim Wolfe my response came in one word: Monumental.
For what felt like eons, we've seen protests end in police violence, acquittals and violators of justice not even seeing a court date. Today was different, today was about digging in and being focused on a goal paying off. It took a strong Black student body with a huge push from the school's biggest moneymaker to put the pressure on an administrator who seemed to care less that the President of the Missouri Student's Association being called a "nigger" repeatedly by fellow white students.
The significant timeline of events coupled with the cavalier approach by Wolfe were damning.
Oct. 8: Loftin announced mandatory online diversity training, according to the Missourian. Critics said the move was welcome, but inadequate.
Oct. 10: A group of students calling themselves Concerned Student 1950, named for the year black students were first admitted to the University of Missouri, protested the school homecoming parade, blocking a red convertible in which Wolfe was a passenger. They chanted and made speeches for about 15 minutes, accusing the administration of failing to do enough to address racism on campus. the Missourian reported. "All we get is emails and empty promises," Butler said.
Oct. 27: Wolfe met with Concerned Student 1950, but the group said he didn't agree to any of their demands, the Missourian reported.
Nov. 2: Graduate student and Concerned Student 1950 member Jonathan Butler said he would begin a hunger strike until Wolfe left office. Wolfe responded with a statement that said he hoped Butler "will consider a different method of advocating for this cause," the Missourian reported. He called for "ongoing dialogue about the racial climate."
That same day, student activists camped out on the school's Traditions Plaza,vowing not to leave until Wolfe was removed, according to the Missourian.
Nov. 3: Wolfe and Loftin met with activists at the urging of a graduate students group. The meeting turned contentious as students said they remained unhappy with what they described as an insufficiently bureaucratic response, the Missourian reported. Later that day, Concerned Student 1950 announced it would boycott university events, merchandise and restaurants.
Nov. 6: Wolfe issued a statement in which he said he'd met with Butler and acknowledged racism existed on campus. "I am sorry this is the case." He went on to apologize for his reaction to the homecoming protest, which he said "seemed like I did not care." He went on: "That was not my intention. I was caught off guard in that moment. Nonetheless, had I gotten out of the car to acknowledge the students and talk with them perhaps we wouldn't be where we are today."

That evening, Wolfe attended a performance at a Kansas City theater, where Concerned Student 1950 members protested outside. Wolfe briefly spoke with the protesters, then walked away.

 Nov. 7: A group of black University of Missouri football players said in a statement they would boycott the season until Wolfe "resigns or is removed due to his negligence toward marginalized students' experiences." Wolfe responded with a statement saying he was "dedicated to ongoing dialogue to address these very complex, societal issues as they affect our campus community."
Nov. 9: Wolfe announced he would step down, saying he hoped it would help the university heal.
The unexpected participation of the University of the Missouri football team turned the tide and potentially thwarted an uglier situation. The last thing the university needed was the school president in a stalemate with a student on a hunger strike over racial issues. Granted the football program brings in about $35 million a year and was looking a $1 million payday from BYU this weekend. No way in hell was the school going to pass up on that.
(Inside STL.com)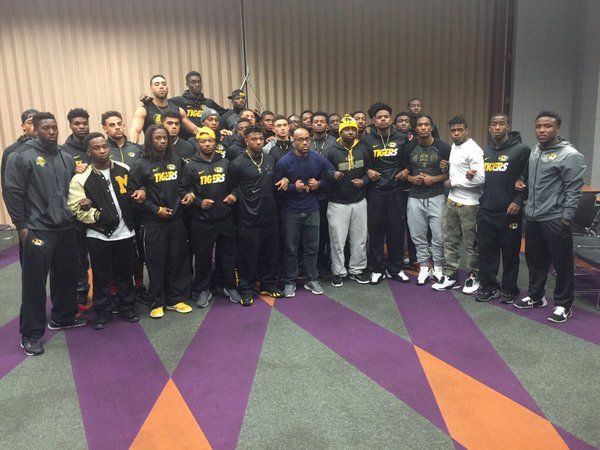 The Mizzou Tigers Black players standing united.
The young Black men and women of the University of Missouri stood tall with everything to lose and only their beliefs to fall back on. I had hoped to see that same fire exhibited by the Los Angeles Clippers when they were faced with blatantly racist quotes from their former owner Donald Sterling in 2014. Instead, we heard rhetoric about things need to change followed up by the team's earth-shattering act of defiance by turning their shooting shirts inside out and tossing them at center court.
Some may say that these are two different scenarios, but when you're at war with injustice it's all the same. The Clippers were established young men who made it through similar situations but for some reason didn't feel the need to fight back. From Doc Rivers to the twelfth man on the bench, no one budged. In the Missouri football locker room, there were 30+ young Black men who were willing to risk it all with nothing to gain but a place in history. They made a point that they were more than just a commodity to the school or dumb jocks if you will.
The youth shall be the true revolutionaries.