(www.tampabay.com)
In case you missed it this past Sunday, Cam Newton and Jameis Winston each passed for 246 yards and five touchdowns as they routed Washington and Philadelphia, respectfully.
Once you open the book on two of the NFL's most polarizing figures, you may be surprised at how both have taken a very similar path to stardom.
"A wise man builds a strong foundation from the stones thrown at him."
For Cam Newton and Jameis Winston, Sunday was a banner day for several reasons that don't need an explaination.
Newton and Winston each:
Passed for five touchdowns (four in the first half).
Passed to five different receivers for touchdowns.
Passed for 246 yards.
Defeated their NFC East opponent by 28 points.
For this year's No.1 overall pick, blistering the Eagles defense was a bittersweet, almost watershed moment.
"I ain't going to cry, but this is a dream come true for me," Winston said. "I always wanted to play here, ever since I was a little boy. I always wanted to be an Eagle. I was even singing the fight song on the sideline. It was a special day for me."
Winston set a rookie record with five touchdown passes, tying the Detroit Lions Matthew Stafford who previously accomplished the feat in 2009 and Ray Buivid of the Chicago Bears in 1937.
Winston's performance was light years from his regular season debut in which his first NFL pass was returned for a touchdown in a 28-point defeat to the Tennessee Titans, led by Marcus Mariota — the man now responsible for Winston's first defeats as a collegiate and professional.
Mariota passed for four touchdowns in the opener,  while Winston passed for two scores, but threw two picks. Since then Winston has passed for 13 touchdowns and 7 interceptions leading the Buccaneers to a 5-5 record and in the midst of the Wild Card conversation.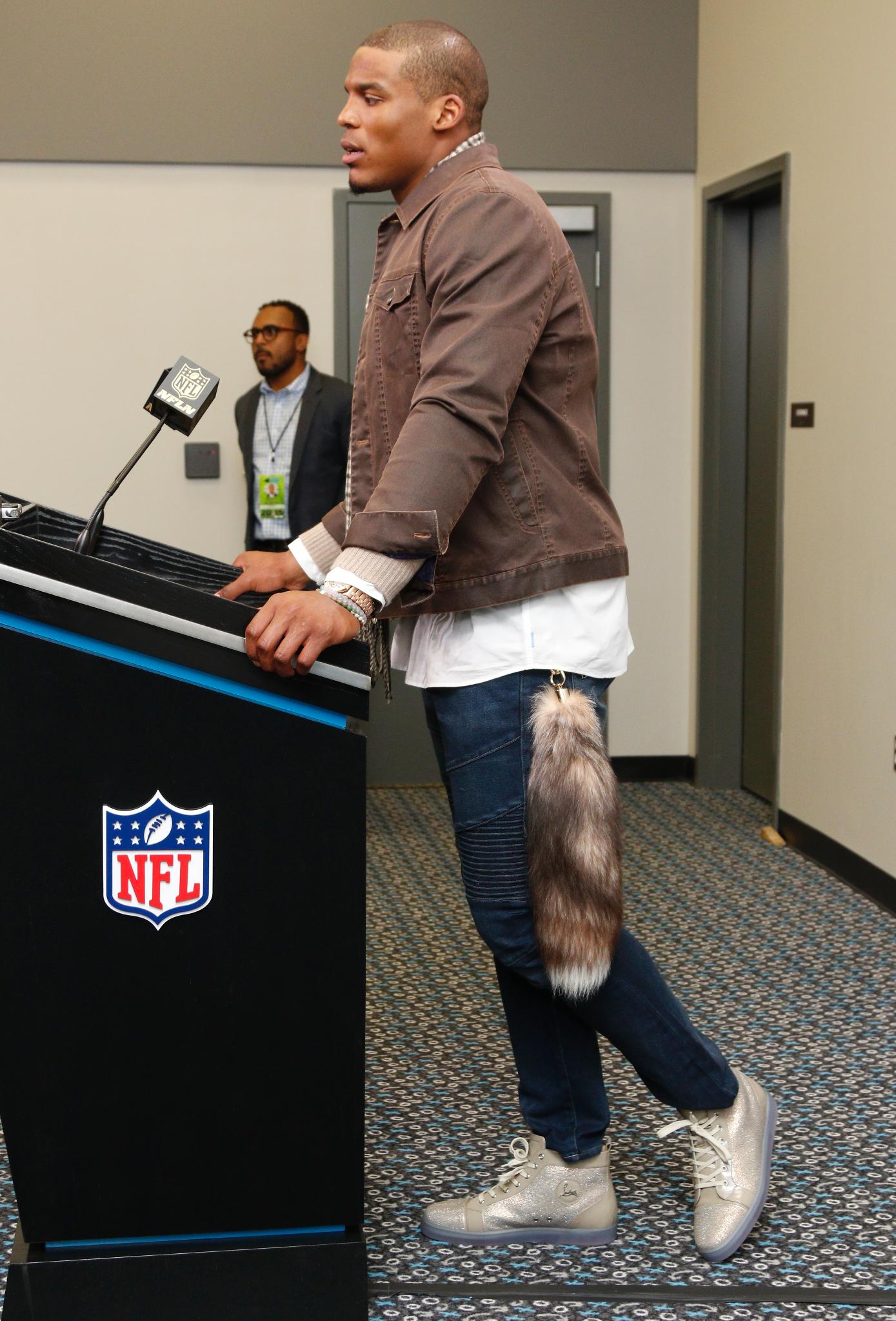 Cam Newton has been stylin' and profilin' all season long with no end in sight.
Cam Newton watched Russell Wilson win a Super Bowl, Colin Kaepernick lead his team to one and heard how Robert Griffin III had leapfrogged him after just one season in the league. Newton, working with much less in his aresenal kept ballin' and didn't let anyone take his smile away.
With an undercurrent of unrest in Seattle and quarterback upheavals in San Francisco and Washington, DC. Newton's name once again is heavy on the lips of everyone for one reason or another.
The Carolina Panthers are 10-0 and instead of us hearing talk about Cam Newton as THE leading MVP candidate, we're being subjected to nonsense about touchdown dances and how this team isn't good enough to run through the NFC.
Cam is going to be great with or without your approval — it's simply a fact of life.
Cam Newton and Jameis Winston, both Heisman Trophy winners, owners of a National Championship with a 40-1 record as collegiate starters between them.
They also just happen to be two of the most scrutinized players in any sport in recent memory.
Never before have the talents of two No.1 overall picks been supplanted by their off the field issues as collegians. From the lifting of a student's laptop and crab legs or the sophomoric chants in the student activities center, to the more serious pay to play investigation and allegations of sexual assault. You could fill Lake Michigan with the number of quacks who have psychoanalyzed Newton and Winston. Treatable character flaws carried more weight than arm strength, game-changing ability or overall leadership on the field.
Before his name being cleared and winning the Heisman Trophy and a National Championship, Cam Newton put the Auburn Tigers on his back and ran through the fabled SEC Conference as his college career hung in the balance.
For Jameis Winston, one could say his woes were self-inflicted, sexual assault allegations aside Winston put himself and the Florida State Seminoles behind the eight-ball. The now infamous crab leg scandal and his student activities center outburst — which cost him one game left many questioning his maturity and overall qualities as a leader. Winston answered by digging holes in several games last season only to lead Florida State to victory, the Seminoles made it to the first College Football Playoff undefeated despite voters trying to discredit their ranking in spite of their undefeated record. He has displayed the same determination and leadership in his first NFL season, adjusting to the speed and nuances of the game.
I don't know if people really notice the changing of the guard in the NFL. It may not happen with the ferocity that Michael Jordan exhibited in the NBA, but that day is here. Peyton Manning has all but lost his battle with Father Time, Drew Brees still show flashes, but he's always been a second tier guy. Phillip Rivers has underachieved despite having a Hall of Fame running back and tight end for most of his career. As for Tom Brady, Rodger Goodell would take ten years off his life before watching him celebrate another Super Bowl victory.
Which brings us to Cam Newton, Ben Roethlisberger, Aaron Rodgers, Eli Manning and the new school of talent in Teddy Bridgewater, Jameis Winston, Andrew Luck, Derek Carr, Tyrod Taylor, Blake Bortles, Marcus Mariota. We'll leave the light on for Griffin and Kaepernick.
The odds are better than good that Cam Newton and Jameis Winston — rejected stones at one time, may be the very foundation of a new era in the NFL.